Take On The Challenge: London To Reading Bike Ride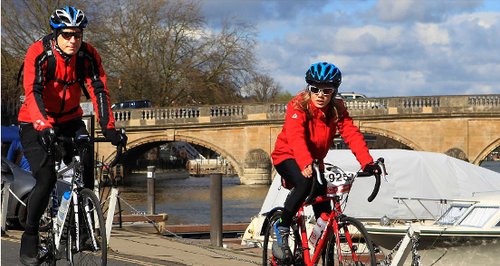 Make 2017 the year you make a resolution you CAN keep and pledge to raise cash for the British Heart Foundation at their London to Reading Bike Ride on Saturday 18th March.
Get stuck in to cycling in 2017! So if one of your goals is to get fit - then how about some added motivation? The British Heart Foundation is looking for teams and individuals to take part in its 40-mile bike ride.
Leaving London on open but quiet roads and finishing at Reading's Christchurch Meadows, it'll be a great day out for keen cyclists and beginners too. The whole family can get involved as the event is open to all, with under 16s being accompanied by an adult.
Experience the buzz of the start line atmosphere, you'll leave London's Kempton Park Racecourse to cycle through quiet country roads, with beautiful views and picturesque villages providing the perfect backdrop.
It's largely flat and fully signed and marshalled, with first aid, refreshment points, mechanical support and an experienced BHF team supporting you all the way. They'll even support you before the big day, with full training guides and fundraising resources available to all participants.
And remember, it's not a race, it's about taking part and conquering a challenge to help fund life saving research into heart disease.
By taking part in the bike ride, you will be helping the British Heart Foundation lead the fight against heart and circulatory diseases - which is the cause of more than a quarter of all deaths in the UK today.
It's only through research that the British Heart Foundation can achieve its vision of a world where people do not die prematurely or suffer from heart disease.
Lee's Story

Lee is taking the London to Reading challenge to to help fund life saving research, after his three-year-old son, Luke, was diagnosed with a rare form of congenital heart disease at just six-weeks-old, leaving him with just 50 per cent heart function. The condition - Tetralogy of Fallot - can be life-threatening, as the heart is unable to pump enough oxygen around the body. Luke had to undergo three major surgeries and his future is marred with the prospect of more operations. can be life-threatening, as the heart is unable to pump enough oxygen around the body, and Luke has already had to undergo three major surgeries, with the prospect of more.
Around 4,000 babies each year are born with a heart defect, with many more diagnosed later in life. Before the BHF was established, 8 out of 10 babies born in the UK with a heart defect did not survive to their first birthday. Today around 8 out of 10 survive to adulthood.
Lee explains: "When your child is born, it's the happiest day of your life. But our perfect happiness only lasted six weeks, before our lives turned upside down. Making countless visits to hospital with a tiny baby in your arms, who's limp and lethargic was terrifying and I felt incredibly helpless. All I could do was hope that my son got the treatment he needed and fast."
"You have to stay strong as you watch your little boy get wheeled into the operating theatre, but it's tough. He's growing fast and is a happy little boy now, but he still faces more surgery when he's a teenager to replace his heart valve, so we're just hopeful that the BHF will help find a long-term cure that will give Luke the best possible future."
"Taking on the London to Reading Bike Ride is my way to give back to the charity and I'm sure Luke and the rest of my family will be at the finish line cheering me on."
Shawn Mendes There's Nothing Holdin' Me Back

now

Puff Daddy/Faith Evans I'll Be Missing You

02:05

Justin Timberlake Mirrors

02:01

Irene Cara Fame

01:52