Gromits: Auction Details
24 September 2013, 12:58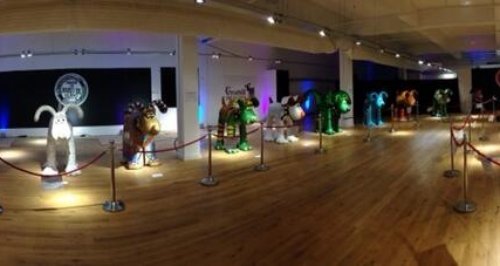 Art bidders from around the world will soon be bidding at a ticket only charity auction to get their hands on one of eighty individually-decorated giant sculptures of world-famous animated character Gromit.
Hosted by Sotherby's auctioneer and TV antiques presenter Tim Wonnacott, who has described it as "the premiere charity auction of the year", the 5ft Gromits have been exclusively designed by some of the biggest names in art, animation, design and entertainment.

The highly covetable, one-off designs going under the hammer include sculptures designed by animation giants Pixar, artist and illustrator Sir Quentin Blake, artist Gerald Scarfe CBE, creative director and founder of Aardman Peter Lord CBE, Turner Prize-nominated artist Mark Titchner, landscape artist David Inshaw, Sir Peter Blake, famous for the Beatles Sgt Pepper album cover and a completely unique sculpture of Wallace & Gromit by the creator of the famous duo, Nick Park CBE.

Well-known designers who created a Gromit include Cath Kidston MBE, Sir Paul Smith and Celia Birtwell CBE and there are a number of high-profile celebrity artists including One Direction star Zayn Malik, actress Joanna Lumley, comedian Harry Hill and musician Jools Holland OBE, who has created a musical Gromit.

Describing the event, Tim Wonnacott says:
"This will be the premier charity auction of the 21st century. These sculptures are all individually decorated one-offs, not something that you will ever be able to replicate or find again so it is immensely exciting."

The auction will be the culmination of top tourist attraction Gromit Unleashed, organised by international animators Aardman together with Wallace & Gromit's Grand Appeal. The hugely popular trail took Bristol by storm, attracting hundreds of thousands of visitors throughout the summer from all over the world.

Nick Park said:
"The response to the trail was extraordinary and greater than anyone had expected so it's going to be very interesting to see how the auction goes. We have some internationally-known artists involved, so I really hope it raises lots of money for Bristol Children's Hospital."

The ticket only auction will take place at the Gromit Unleashed Pavilion at The Mall, Cribbs Causeway in Bristol on Thursday October 3rd to raise money for Bristol Children's Hospital charity Wallace & Gromit's Grand Appeal. Anyone interested in bidding must register their interest by emailing auction@gromitunleashed.org.uk in advance. Bidders who have registered their interest will shortly receive details of how the bidding process works online.

A live stream of the auction will be broadcast online. Find out more, and see a catalogue of all the Gromit sculptures here: www.gromitunleashed.org.uk.

The charity has pledged to raise an initial £3.5 million to support the expansion of Bristol Children's Hospital, for state-of-the-art equipment, including an intraoperative MRI scanner, family facilities and child-friendly artwork to enhance the £31 million investment by the NHS.

The Grand Appeal is working with Wild in Art, a leading arts and education company which produces mass participation events in cities, to deliver Gromit Unleashed.
To register your interest in bidding, email auction@gromitunleashed.org.uk.