Serious Case Review into 3 Month Old Girl Shaken to Death
21 May 2015, 17:00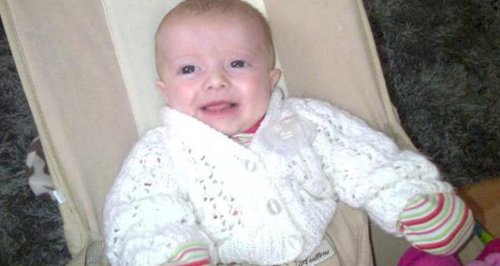 A long list of improvements have been given to those responsible for protecting children in Bristol after a 16 week old baby girlwas shaken to death by her Dad.
The Bristol Safeguarding Children Board has published the findings of an independent Serious Case Review following the death of Paris Vince-Stephens aka Child T on 14 January 2013.
25 year old William Stephens was sentenced to six years behind bars for the manslaughter of his daughter on the 13th December 2013 at Bristol Crown Court.
Her mother Danah Vince, 19, was cleared on Thursday of causing or allowing Paris's death.
The pair first started dating when Danah was 13 years old, and was 18 when she gave birth to her daughter.
The serious case review published today (21st May 2015) noted a dozen recommendations on issues of child sexual exploitation, levels and means of intervention, looking at the whole family instead of the child in need, reviewing partnership agreements between parents and social services, non-compliance and lying to social services and domestic abuse.
Sally Lewis, Chair of the Bristol Safeguarding Children Board said: "On behalf of the Board and its partner members I wish to express my most sincere condolences to the families for their loss.
"I can report that a most thorough and comprehensive review has been undertaken of relevant circumstances that led to the tragic outcome. The review was undertaken by an independent professional commissioned for her significant qualifications and experience in this area of expertise.
"Protecting our children is a national, statutory and very personal concern. Sadly, it is virtually impossible to eradicate risk entirely. I can report that every organisation involved in the review has shown integrity to identify and address any areas where practice can be improved. Where shortcomings have been identified I want to express our most profound regret.
"Whilst we can never wholly eliminate dangerous behaviour, our communities rightly expect that we reduce the risk to the absolute minimum. It is important that this review has taken full account of, and incorporates learning from previous Serious Case Reviews; the level of improvement impact already made and the relevant findings from formal inspections.
"Improvements are already in place including better information and knowledge sharing to help spot risks early, revised training for professional staff and new processes and guidance to ensure any agency that comes into contact with a child or family at risk can respond more promptly and appropriately. More recently, in November 2014, Ofsted recognised that agencies in Bristol are working very effectively to tackle child sexual exploitation.
"As a consequence of this frank and rigorous approach, I have confidence in the robust and purposeful nature of the recommendations made to, and accepted by the Board.
"Since my appointment as independent board chair in August 2014 I have seen evidence of high levels of commitment from partner agencies in the delivery of this most critical area of public service. Work to implement the recommendations made in this Serious Case Review has already started and will be subject to ongoing scrutiny."
For Avon and Somerset Police Det Supt Carolyn Belafonte said: "We take the protection and safeguarding of children extremely seriously and it will always be a top priority for us.
"This was an extremely sad and horrific case involving the death of a three-month-old child which resulted in a thorough police investigation and the conviction of the child's father. This has been a terrible ordeal for the families involved and our thoughts and sympathies remain with them.
"Cases like this are extremely complex and present a real challenge for police and partner agencies due to the levels and types of vulnerability involved.
"We recognise and fully accept that more could have been done to help prevent this tragedy and we want to learn the lessons from this case.
"The Serious Case Review (SCR) has outlined a number of recommendations on how we can improve processes and staff awareness relating to the areas of child protection, domestic abuse and child sexual exploitation.
"We've already taken action to implement all of these recommended learnings and make changes to our referral mechanisms, recording and information sharing processes.
"We now have more tools at our disposal to help us recognise, identify and tackle these incredibly complex issues and we're continually reviewing our training materials to ensure all our staff, especially those on the frontline, are showing professional curiosity when it comes to vulnerability and know exactly what to look out for.
"We believe we've made significant progress in many areas outlined in the report.
"A recent investigation into child sexual exploitation in Bristol resulted in very serious offences being identified early and offenders arrested and brought to justice. This investigation stemmed from an officer's proactive response following a call to a property to deal with a missing girl.
"It can never be acceptable for a child to be put at risk of harm so we're committed to working with our partners to make sure we're doing everything possible to prevent a similar tragedy from occurring again."
Jean Pollard, Service Director, Child & Family Support, Bristol City Council said: "This is a truly tragic case which highlights the difficult lives experienced by some families and the real challenges professionals face in helping them.
"We are grateful to the Bristol Safeguarding Children Board (BSCB) for a very thorough report and clear recommendations. We have not waited to act on these, and many of the suggested improvements are already in place.
"Sadly there is never any way to completely remove risk to the most vulnerable members of our society, but the learning and recommendations from this report will help us work together more effectively and do all we can to keep people safe.
"However, no amount of improved professional practice changes the fact that a vulnerable young baby lost her life. That is never acceptable and we will continue to work with other agencies across the city to make sure we do everything in our power to protect children."
Responding jointly with NHS England to Bristol Safeguarding Board's Serious Case Review relating to Child T Alison Moon, Transformation and Quality Director, NHS Bristol Clinical Commissioning Group said:
"Firstly, and on behalf of my colleagues across the healthcare sector in Bristol, I would like to express our deepest sympathies and condolences to the family involved in this tragic case.
"It is under the most regrettable circumstances that we come together today as the professional organisations who worked with this young family. But working together, not only today but on an on-going basis, is crucial to reducing the risk of any such tragedy happening again.
"We have reviewed this case with the utmost care, concern and scrutiny. As a result, a raft of changes have already been put in place to increase the safeguarding of both children and young mothers. Safeguarding training for all frontline healthcare staff, including GPs and health visitors, has been reviewed and amended, alerting them to both signs to look out for and how to officially register any concerns with the relevant authorities and partners.
"We have reviewed and improved systems on everything from information sharing to training healthcare professionals to 'think family' – and look at children and mothers in the widest possible context in terms of the people involved in their lives. These changes have been reinforced through training and subsequently audited to ensure practice has actively improved.
"Most regrettably we cannot change what has, but should never have happened. But we can and have learned from this tragedy. Working with partners across the city we are ensuring every possible step is taken to protect the most vulnerable members of our community."
You can read the full serious case review relating to Child T HERE.