Win A Family Day Out With Some Marvellous Monsters At Longleat!
Get yourself to Longleat where they've been taken over by some big bugs! And to make sure you discover them we've a family pass and the chance to win £50 or more to spend on a day out there!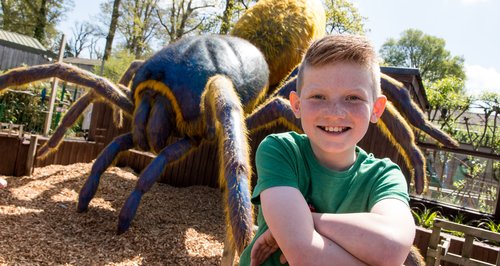 From giant, animatronic insects and hands-on bug sessions, to creepy crawly workshops and bug-themed films - Longleat is being overrun with creepy crawlies as they bring you Marvellous Monsters!
Get ready to welcome some mind-boggling new residents to Longleat as over 20 larger-than-life animatronic bugs take over the park. Come and explore the amazing world of insects and discover the softer side of bugs and the vital role they play in keeping our planet alive.

This year, it's all about these true giants of the animal kingdom and Marvellous Monsters is going to put the spotlight on bugs and showcase just how amazing they are and how important it is to conserve them.
You'll come face to face with these humongous creepy crawlies and get a brand new perspective on these bizarre but fascinating creatures. The huge animatronic bugs (as big as cars and vans) will make you feel like you've entered a hidden land of insects. But there aren't just back garden heroes, there's loads of exotic bugs for you to discover too.
Their Longhouse events venue has also been transformed into an interactive zone dedicated to the amazing praying mantis family with crazy mirrors to help you practice your praying mantis pose and microscopes so you can get up close to the creatures.

New for May half-term - 'Flight Of The Butterflies'
Get ready for an epic cinematic adventure! New this may half-term the 'Flight of the Butterflies' short film will be showing. Experience the remarkable monarch butterfly migration, the most incredible wonder and has to be seen to be believed. The film is free with you ticket so don't miss this natural history epic!
Win tickets & more to Longleat
Listen to Heart Drivetime with Julian Jones all week from Monday 22nd to Monday 29th May* when he'll be playing 'Insect Ear Test'.

Text BUG to 82122 when he tells you to and if you're picked and come on air you will instantly win a family day pass to Longleat, as well as the chance to win £50 voucher to spend there.
Julian will play you the sound of one of Longleat's Marvellous Monsters, guess correctly and we'll add a £50 Longleat voucher to your prize package. Get it wrong and the £50 will roll over to the following day where more of the clue will be released. The jackpot will keep building throughout the week until the sound is guessed. Don't worry if it's won early in the week either, we'll be playing all the way to Friday with a new sound.

Warminster, Wiltshire, BA12 7NW
*Due to recent news events, the competition round on Tuesday 23rd May 2017 did not take place.
This competition round will now take place on Monday 29th May 2017.