Win A Family Pass To Longleat
Let your kid's imaginations run wild in the wonders of Longleat this Summer, as we have family passes and an annual pass to be won!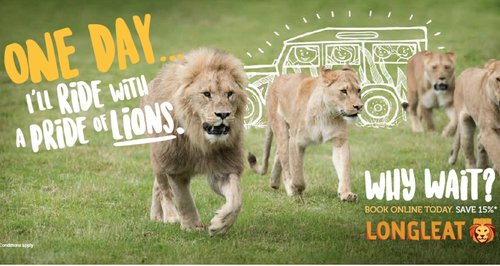 Imagine, one day, taking your kids on a wild safari where they could see lions, hippos, an aardvark, a baby giraffe and so much more! Well why wait for that one day? You can experience all this at Longleat today...
...and you can win a family day out at Longleat on us!
Think of all those books read to your little ones over the years...about Henry the Hippo, Timmy the Tiger, The Laughing Lion, The Hungry Aardvark...we're sure the list goes on! Now you can can make those wondrous stories into your own real adventures at Longleat.
Start your Longleat adventures with the drive through safari where all sorts of animals are waiting to be discovered. You'll get to meet Anne the elephant, see the swinging monkeys, lions roaring and tigers roaming, to name just a few.
Then you can take a walk through the African village and walking safari where you'll be hanging out with a baby giraffe and giant zebras!
If you're feeling brave and adventurous why not gets hands on and stroke a tarantula or hold a snake? Or if you'd rather, you can get a nice cuddle with a guinea pig. Plus, you can watch the amazing skills of the colourful macaws during the parrot shows.
Win tickets & more to Longleat
Does that sound like something to put on your summer bucket list? Well we can get that ticket for you as we have prizes to be won everyday from Monday 17th to Friday 21st July on Heart Breakfast!
From Monday to Thursday you can win a family day pass for two adults and two children so you can enjoy the full park for the day.
Then on Friday you could win a Family Annual pass, meaning you can enjoy every attraction as many times as you like. Plus, every winner from across the week will also get a £50 voucher to spend at Longleat.
For the chance to win just listen to Heart Breakfast and text in with the details shared on air for your chance to play.
You can travel through the Jungle Kingdom and meet the newest additions to the Longleat family...aardvarks! Then onto the jungle cruise where you can hear the hippos laughing and the sea lions shouting, then onto the desert, and then to the ocean...and keep going!
There will be more reasons to keep making the "one day's" today, as you'll still have the 'Marvellous Monsters', 'Flight of the Butterflies', 'Zone Bee' and of course the wonders of the spectacular historic Longleat House.
Imagination will take you everywhere at Longleat. So book your visit this summer and make sure to arrive early to make the most of an amazing day out!
Michael Jackson Rock With You

now

Pink Just Like A Pill

17:52

Aerosmith I Don't Want To Miss A Thing

17:48

Charlie Puth Attention

17:39