Sing Your Way To The ss Great Britain This Christmas!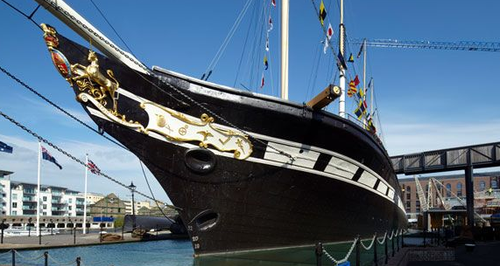 Calling all choirs! Have you got what it takes to win a singing competition onboard Brunel's ss Great Britain? You'll win £1,000, plus an annual family pass each
Brunel's ss Great Britain will be transformed into a Dickensian, winter scene as visitors are invited to step back in time to meet the ghosts of Christmas past on Saturday 17th to Monday 19th December.
With costumed characters and even Brunel himself roaming the decks you can experience what life was really like onboard on the high seas.
So how would you like to take part in our choir competition onboard to win £1000 for your choir and an annual family pass for each choir member? Warm those vocal chords, wrap yourself up and join Ed Troy & Paulina on Saturday 17th December to sing for your prize!
Just register your choir by answering the questions below before 12 noon on Thursday 15th December and you could be one of 3 choirs we choose to go song-to-song against each other. The winning choir will receive £1000 and each choir member will receive an annual family ticket to Brunel's ss Great Britain.
That classic Christmas card scene will be brought to life at Brunel's ss Great Britain this year with a beautifully decorated dockyard, Victorian characters and even falling snow!
It could be said that the Victorians invented Christmas as families know it today; many of the traditions that are now considered commonplace were started in the 1800s.
Bump into Victorian Characters: Families can experience the hustle and bustle of a 19th century dockside as 20 authentic, Victorian characters go about their lives and tell their stories. Learn what life was like for the Victorians as street urchins and first class ladies transport families back in time.
Listen to Carol Singing: Choirs will battle it out in a carol singing competition on Saturday 17 December, where choirs will go head to head for the judges. The Cosmos Choir and Big Friendly Choir will be singing on Monday 19 December.
Be Enthralled at The Goblins' Gift Storytelling: Little ones can meet the man who made the era, as Charles Dickens regales families with his newest tale. In costume and in character it doesn't get more Dickensian than Charles himself!
Meet Mr. Brunel: Brunel was not famed for celebrating Christmas, but instead for working through the festivities. Visitors can seek him out every day of the festival and make sure he remembers to get some seasonal cheer.
Tuck into Festive Food and Drink: The Dockyard Café will be stocked with festive flavours for the whole family. Mulled wine, hot chocolate, roasted chestnuts and spiced juices will also be available to buy on the dockside.
Get Crafty at Family Workshops: Adults and children alike can make Victorian Christmas cards to send to loved ones.
Shop for Seasonal Gifts: Mum and Dad can visit the ss Great Britain's Gift Shop for a treasure trove of stocking-fillers and Victorian-style gift ideas from wooden toys to books and Bristol Blue glass.
---
Brunel's magnificent Victorian ship has enjoyed over 170 years of adventure, travelled a million miles at sea and been around the world 32 times.
Below decks you can peep inside the luxury cabins of First Class passengers, check out the cramped galley, and be amazed at the massive turning engine.
And if you're prepared to go to great heights for a day out then Brunel's ss Great Britain's 'Go Aloft!' gives you a birds eye view of Bristol's famous ship from 30 metres above the ground- find out more here including age restrictions & additional costs.
*This competition is running across Heart Bristol, Bath & Somerset,
Heart Gloucestershire & Heart Wiltshire with one prize only.