Gareth's Summer Mocktails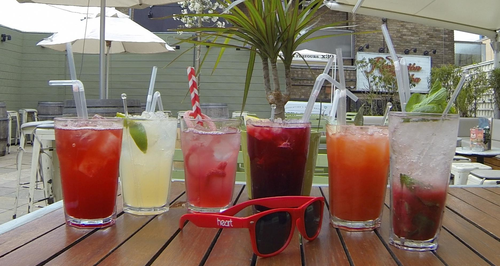 Gareth is getting ready for the summer with his handy guide on how to make some delicious Mocktails.
Gareth went down to Revolution in Cambridge to learn some tricks of the trade when it comes to a tasty and refreshing treat this summer.
So Gareth has been learning all about Mocktails.
A Mocktail is a non-alcoholic cocktail, and we were all surprised at what a huge variety of drinks you can make.
Check out some of Gareth's favourite Mocktails:
Strawberry Nojito
1 x Squeezed Lime Wedge
1/2 Shot x Lime Juice
2 x Spoons Of Sugar
1 Shot x Strawberry Puree
10-12 Mint Leaves
Soda Water
Asian Spritzer
1/2 Shot x Lime Juice
1 Shot x Elderflower Cordial
2 Shots x Apple Juice
Ginger Beer
Blue Virgin
1 Shot x Blackberry Puree
1/2 Shot x Lemon Juice
2 Shots x Pomegranate Juice
Lemonade
Rumbungo
1/2 Shot x Grenadine Syrup
1/2 Shot x Passion Fruit Juice
Pineapple Juice
Heart Breaker
1/2 Shot x Strawberry Puree
1/2 Shot x Grenadine Syrup
Top with Redbull
Thanks to Revolution Cambridge