Bouygues E-Luminate Cambridge Festival 2017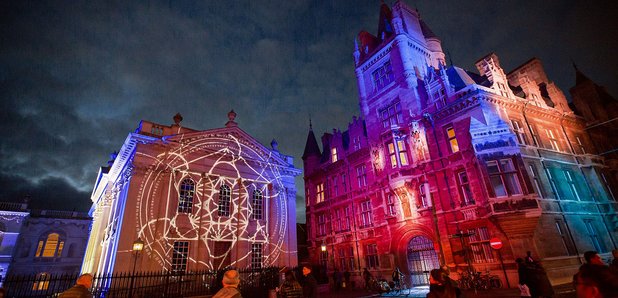 See historic buildings across Cambridge lit up in beautiful colours from Friday 10th February.
When?
The e-Luminate Cambridge light spectacular runs from Friday 10th February until Wednesday 15th Februaryand begins with the official switch on and Night Market, featuring live entertainment, arts & crafts and food stalls in the heart of the city.
On the opening night, entertainment continues in the Cambridge Corn Exchange with a live concert that takes visitors on a journey through darkness to light, helped by a 120-strong choir!
Now in its fifth year, over the course of six evenings, the Bouygues e-Luminate Cambridge Festival will transform the landscape of Cambridge with beautiful light art installations, through the theme of 'Play'.

Where?
The event takes place all across historic Cambridge City Centre. Scroll down to explore the festival's highlights.
Get ready for the switch on...
The Bouygues e-Luminate Cambridge Festival opens on Friday 10th February at 6.30pm.
Many of the public displays are free to attend, so why not take a stroll through Cambridge one evening and see the city in a new light?
>> Find out more about the launch of the festival

Dark & Light
To celebrate the opening of the festival, book your tickets now to a see a spectacular performance at the Cambridge Corn Exchange. The concert features performances from Dark Room – a multi-sensory journey through darkness to the light, performed by New York dancer Giorgia Bova with jazz pianist Andrea Manzoni and Cambridge's ground-breaking musical collective, We Are Sound using voices and instruments to get under the skin of some of the world's best tracks.
Hologram & Light Painting Workshops

Turn an object into a one-of-a-kind laser produced hologram in a Make your own Hologram Workshop- a practical event combining physics, art and chemistry. Then get creative with your camera in the Light Painting Workshop- a great introduction to photography, using light to paint stunning effects.
Light Installations
From glowing butterflies that will light up the river bank by Magdalene College to The Triangle, built by Bouygues UK - 24 outdoor installations will be lit up for 6 nights and are free to explore around Cambridge city centre.
Make sure you visit them all before the end of the festival.