Ely XT Fireworks 2016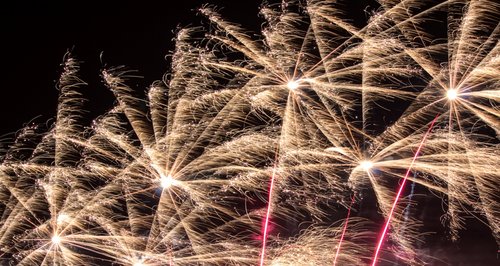 Join Heart for a spectacular fireworks display in Cherry Hill Park on Saturday 12th November.
This year's event, organised by Ely XT and proudly supported by Heart, will be held on Saturday 12th November in Cherry Hill Park.
Gates open to the park at 5:30pm so make sure to arrive early to enjoy the stalls and rides that will be at the event this year.
The bonfire will be lit at 6.15pm with the fireworks display beginning at 6.45pm
Please remember not to bring your own fireworks or sparklers to the evening for safety reasons.
Guy Competition
Back again for 2016, local schools and clubs with membership age of under 15 are invited to take part in the annual Guy competition.
There will be a prize for the Guy judged to be the best at the event.

Tickets

Advance ticket prices
Adult - £3.00
Child - £1.50
Family (2 adults & 2 children) - £8.00
On the gate prices
Adult - £5.00
Child - £2.00
Family Ticket not available on the gate
Tickets can be purchased in advance from the following locations:
Specsavers, High St, Ely
Ely Weekly News Office, Market Place, Ely
Tourist Information Centre, Cromwell House, Ely
Soham Books, 38 High Street, Soham
Twin Motor Company, Pound Lane, Sutton
Littleport Bargain Centre, Main Street, Littleport
Ely Sainsbury's, Lisle Lane, Ely CB7 4AS