Hair How-To: The Hairstyles You'll Want To Try!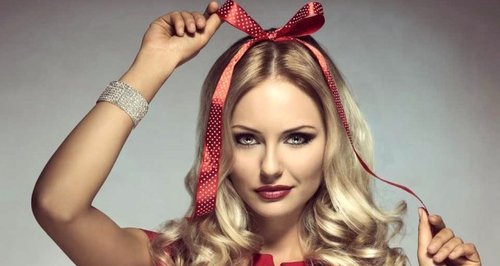 What better time than now to up your hair game? Here's how you can recreate the best season styles...
Forget weddings and the races, the new year should be up there on the events diary, when you knock 'em dead with your new hairstyle.
Short or long, thick or fine, these super sexy hair styles are perfect for a 2016 new hair-do. And a gorgeous hairstyle needn't mean hours of effort, these simple styles have all the wow factor without the fuss...
GLUNGE
Chris Appleton, stylist to Rita Ora says, "Grunge meets glamour (AKA The Glunge) is what it's all about right now! This look oozes sexiness combining loose waves with a lived in feel. Celebrities such as Rita Ora, Kate Moss and Khloe Kardashian rock this look. I re-created this look on Rita recently taking inspiration from the Versace show...

STEP 1: Prep damp hair with Fudge Urban Salt Spray £6.99 and Fudge Urban Iced Raspberry & Vanilla Mousse £5.99 though the roots and mid-lengths to give hair a lived in texture and gritty volume
STEP 2: Twist sections of hair as you dry to add natural movement and wave
STEP 3: Using a large barrelled wand, take sections of hair and loosely tong in different directions to add more controlled texture and curl
STEP 4: Using Fudge Urban Miracle Ends £5.99, twist the bottom sections of the hair for a defined, smooth and glossy finish
STEP 5: Add a spritz of Fudge Urban Iced Raspberry & Vanilla Hairspray £4.99 to keep the style in place"
BRAID AWAY
Plaits shouldn't be just for summer festivals - braids have never been bigger for day to night looks and everything in between. Watch this tutorial on how you can create the braid away look for 2016 too...
STEP 1: Start with a small section from the front hairline to back of the ear and comb section flat
STEP 2: Pump Redken Braid Aid on length and ends of hair (this will allow the hair to be controlled and defined)
STEP 3: Take three sections, overlapping towards the ends of the hair to create this braid
STEP 4: If your braid starts to slip away apply Braid Aid to finger tips and apply to strands
STEP 5: Secure ends with elastic bands and using Redken Fashion Collection Metallic Fix Pomade, apply a small amount to hairline and behind the ear
THE FLAT WAVE
If you're looking for a style that changes up your typical curly and wavy look – you'll love trying the flat wave, also known as the 'Flave'. Follow this RUSH step by step tutorial to master this look at home...
STEP 1: Start at base then nape and saturate the hair with L'Oréal Professionnel TecNi Art Pli.
STEP 2: Using your hair brush and hairdryer, blowdry the section of hair for hold.
STEP 3: Section the lower front then using your GHD Styler, use constructor and spray down the hair
STEP 5: Feed the hair into the plates while bending the hair to create the first waves and hold the styler on it for a few seconds to seal the wave's shape
STEP 6: Continue to do this throughout your hair and using a wide tooth comb, comb through
STEP 7: To finish, spray L'Oréal Professionnel TecNi Art Fix Anti Frizz to shape the waves then use your hand to define the shape and keep it flat.
HALF UP, HALF DOWN
Half up, half down 'dos (ie, styles with the top portion of hair swept back) aren't just for brides-to-be. They're all over the red carpet and party scene right now. And what's not to love? The look manages to be sweet for the day while still being wildly seductive in the evening! Try out the look with these simple steps...
STEP 1: Part a section hair at the crown of the head, leaving the front and sides
STEP 2: Apply L'Oréal Professionnel Super Dust to roots for added body
STEP 3: Back comb at the roots and slightly tease your hair
STEP 4: To clip, shape into place and pull the front section around to the back from the sides
STEP 5: To add shine, use Kérastase Touché Finale and lightly smooth it through