MUST HAVE Toys To See Under Your Tree This Christmas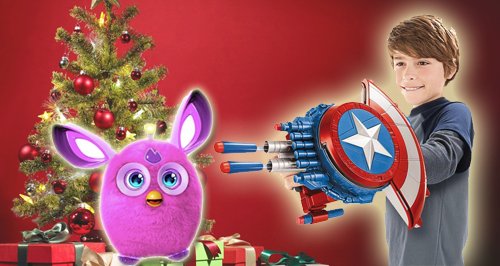 MAJOR toy retailers Amazon, Argos, Toys R Us and Hasbro have released their top pick of gifts to keep the kiddies happy this festive season.
Top Toys Hasbro
Elsa is back for another year running! This time Disney Frozen Musical Lights Elsa's sparkling lights and enchanting music keep the magic of the film alive snowflakes on Elsa's dress glowing with the music. Your child will love singing and dancing along as Elsa sings her classic anthem 'Let it Go'.
Fans of the popular cartoon can imagine summoning Yo-kai characters with this exciting new toy. When used with the medals, the Yo-kai watch plays sounds, music, and phrases.
Kids can imagine what it's like to battle like Captain America with this Blaster Reveal Shield, which includes two launching projectiles. Be fearless and take on enemies by pushing down the star button to watch the shield open and reveal a hidden blaster.
Top Toys From Argos
Sing like a star and create your own music videos with SelfieMic. Featuring an adjustable selfie stick with working microphone, earpiece and free StarMaker app, you can sing, lip sync and perform to thousands of your favourite songs, including everything from Justin Bieber to Taylor Swift. Once you've recorded your performances you can share with friends.
Budding scientists NEED this must-have LEGO set. Drive the mobile operations centre to the volcano site using a range of tools and characters.
Meet Sphero's BB-8, the app-enabled droid that brings the famed movie character to life! Based on your interactions, BB-8 will show a range of expressions and even react to your voice commands. Set BB-8 to patrol mode and watch it go out on its own and explore its surroundings.
Combine the 32 track pieces into lots of different combinations. Watch the motorised mining train and its cargo car chug up and down the tracks and go in and out of the mine, through the gate and cargo loader! Play set features 9 SmartPoint locations, shape sorter and cogs.
Toys R Us
Unlike other Furby's, Furby Connect has a light-up antenna that glows when there's something new to discover in the Furby Connect World app. With over 150 animations, you can interact with your digital friend by petting, tickling, or shaking and more.
Trolls Hug Time Poppy (coming soon)
Following the success of the Dreamworks film, our favourite 80s toy is back with a new look and set to be a hot toy this festive season. The colourful doll plays songs and speaks 25 phrases, plus you can brush her wild hair that lights up with the music and interact with her using her bracelet.
Minions Pie Face (Coming Soon)
Our favourite game Pie Face! is back with a movie twist, this time starring characters from The Minions. This kids' board game will put you on edge as players taking turns to load the throwing arm with squirty cream or a wet cream, and placing their head in the frame. The suspense builds as they turn the handle, hoping not to be splatted in the face!
Amazon
The Tri-Strike is the latest in the N-Strike Modulus series. It comes packaged with a Mega Dart Barrel Extension, a Missile Launcher Stock, a ten-dart clip, ten Elite Darts, four Mega Darts, and one missile.
At just under 90 quid, this toy doesn't come cheap but this playful dragon breathes flame-coloured mist, and has over 50 sound and motion combinations to keep the kids entertained.
Code-a-Pillar helps little learners to be big thinkers by using the easy-to-connect segments in endless combinations which then sends the robotic creature on his way.
Inspired by the new 'Finding Dory' movie, My Friend Dory features motion-activated sounds, more than 40 phrases from the movie itself, and it even feels like a real life fish.
With all these fabulous gifts on offer, we'd better get saving!