Jump Street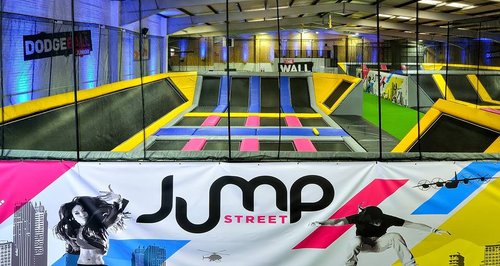 Jump Street is a world where the wall becomes the floor and the rules of gravity no longer apply.

The rush of Jump Street is infectious. If you look around, everyone is buzzing, whether they are running up the "Wall", launching into The Bag, loosening up in the freestyle jumping area or perfecting the perfect "Slam Dunk" in the basketball area.


Their sole purpose at Jump Street is to provide a safe and unmatched experience for kids, teens and adults. Their friendly staff are always there to offer safety tips and show you a few moves along the way.
Exercise has never been more fun! Bounce away those calories at Jump Street fitness classes. These are high intensity, low-impact cardio workouts that blast your core, improve all-over muscle tone and lift your heart rate.
The opposite of a gruelling ordeal, our classes are all about high spirits and awesome soundtracks. Most of all, it makes you smile, laugh and is great FUN!
Fitness trampoline classes offer the ultimate cardio workout without excess stress on the heart, muscles or on any joints.
Jump Street fitness programmes consist of a variety of classes all on the trampoline beds that will really get you energised. You burn more calories bouncing for 10 minutes than you do jogging for 30 without the strain on your joints. Studies show that an hour of jumping on a trampoline burns over 1000 calories. It's the best cardio you will ever enjoy!
Mon – Thurs: 10am – 9pm
Fri: 10am – 10pm
Sat: 9am – 9pm Sun: 9am – 9pm
School Holidays: 9am – 10pm