Bournemouth Man Killed In Syria Fighting IS
24 October 2017, 11:32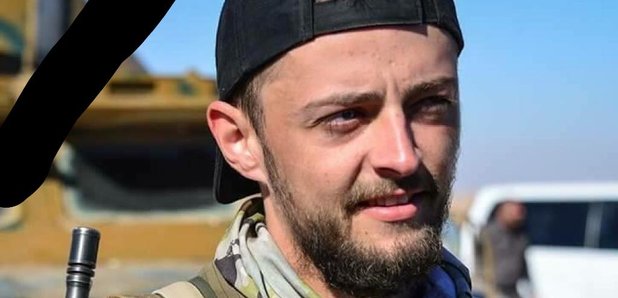 A former IT worker from Bournemouth, who went to Syria to fight against so-called Islamic State, has been killed.
24-year-old Jac Holmes had been helping Kurdish forces clear landmines in the city of Raqqa yesterday. Jac had been fighting with the Kurdistan People's Protection Units (YPG) since January 2015.
His mum says she's heartbroken.
Angie Blannin said she was "extremely proud" of her son, who had no previous military experience.
"He stood up for what he believed in and he had the courage of his convictions to go out and do something where he thought that the West were not doing enough," she told the Press Association.
"To defeat Isis (another name for IS) he felt that it was not just a Syrian problem, or Middle Eastern problem, it was a world problem.
"He wanted to go and do something about that and not just be a keyboard warrior."
Informed of his death hours after it happened, she said that according to Kurdish officials, her only child had been clearing mines to help civilians within the city.
"That wasn't his job, his role, he was a sniper," she said.
"But that is what he was doing, it is all a bit sketchy but I am guessing he stepped on a landmine or one went off close to him, or it was a suicide vest.
"But I don't know. It was an IED that probably covers every base."
Mrs Blannin said that when her son first said he wanted to go and fight IS she was "completely shocked" and thought she may be able to change his mind.
But she said the former painter and decorator was set on what he wanted to do and in the later stages had been keen to stay for the liberation of Raqqa.
Speaking to him at the weekend, she said they had discussed his return and how he would hopefully be home for Christmas.
Describing Mr Holmes, his mother said: "He had an incredible sense of humour, he was very straightforward and was very direct, very headstrong - like me.
"And he had a sense of doing something for the greater good. He wasn't driven by money or possessions - he was quite happy to live the life that he lived.
"Which was, let's be honest, most people would find living in Syria for three years, tough - no electricity, living in burnt-out villages, not being able to wash and shower every day.
"This was the boy who liked a nice bed, and a nice pillow. When he first went there I thought he would probably last about six weeks ... and he will want to come home.
"But he stuck it, and he loved it.
"I think it made him, he learnt the language - he spoke fluent Kurdish - he integrated very well and had so much respect from the commanders and his peers."
During his three tours with the YPG up until his death, his mother said he had fought in every major battle, had at times been surrounded by IS fighters and had suffered only a gunshot wound to his arm and three cracked ribs.
She added:
"He was a boy when he went, but my God, he definitely died a man and I am extremely proud of him. All my family are incredibly proud."
The International Peshmerga Volunteers wrote on Facebook:
'It is with the deepest of hearts that we must announce the passing of sores (Jac Holmes) a British volunteer who was fighting alongside the YPG since the beginning of this conflict.
'Jac was fearless in the face of the enemy but still held onto that compassion and reasoning as to why he traveled to Rojava to take part in the fight.
'Jac was present at most of the liberations which took place across Syria and I can say with the upmost certainty that many of the Kurdish people know, love and will respect this man for eternity. Heaven has gained a bright start while the world has lost a great man, great friend and great warrior.
'RIP my brother.'
(Picture: Jac Holmes / Facebook)