Poole Head-On Crash Driver Avoids Jail
29 January 2018, 11:59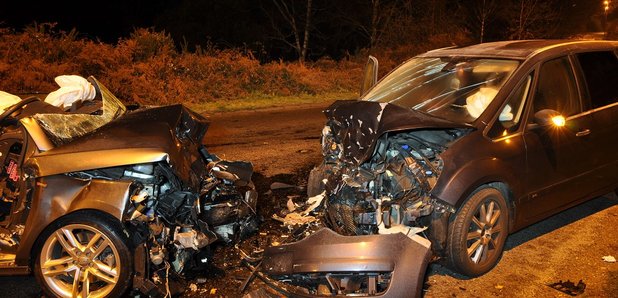 A man, who caused a head-on crash in Poole which badly hurt a woman and her young son, has avoided a jail term.
27-year-old Adam White, from Lake Avenue, was speeding and on the wrong side of the A350 when they collided in January 2017.
He's been banned from driving for two years.
Adam Hobie White, was sentenced to eight months in prison, suspended for two years, and handed 200 hours of community service at Bournemouth Crown Court on Friday 26 January. He was also ordered to pay £2,400 in compensation. He had been found guilty of a charge of dangerous driving following a trial at the same court on Thursday 14 December 2017.

White was also told that he would be required to take an extended driving test before getting his licence back.
On Thursday 5 January 2017 White was driving an Audi A1 along Blandford Road North. Another motorist described seeing him approach the roundabout at the junction with the A35 Upton Bypass in excess of 60mph.
Another driver negotiating the roundabout described the defendant's vehicle being close behind her and then overtaking her at speed before cutting across her to exit on the A350.
A woman driving a Ford Galaxy with her five-year-old son in the back was approaching the roundabout from the A350 when she saw White's car exiting the roundabout at speed and on the wrong side of the road before he collided head-on with her vehicle.
White, the woman and her son were all taken to hospital for treatment for injuries sustained as a result of the collision. The woman sustained severe bruising and muscle damage and had to spend four nights in hospital. Her son suffered concussion and had to spend the night in hospital.
The defendant sustained breaks to his pelvis, leg and knee.
Police Constable Dave Cotterill, of the traffic unit, said:
"This was an extremely reckless piece of driving by White and it is fortunate that his actions did not result in even more serious and tragic consequences.
"Motorists need to be aware that they are responsible for a potentially lethal machine every time they get behind the wheel of a car and should drive safely.
"Dorset Police is committed to keeping our roads safe for all users and is determined to take appropriate action against those who pose a risk to others."