The East Anglian Game & Country Fair Is Back!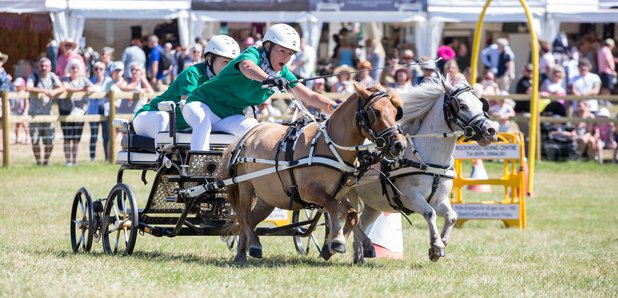 The annual event returns, but this year at its new home of Euston Estate, Thetford, on Saturday 22nd & Sunday 23rd April.
If you've a love for the great outdoors and everything that comes with it, head to The East Anglian Game & Country Fair at its beautiful new home at Euston Estate, just off the A11 at Thetford, on Saturday 22nd and Sunday 23rd April.

There's fun for the whole family whether you're a country pursuits fan, an animal lover, a foodie or just a family looking for a great day out as there's stunt displays, farm animals, equestrian events, dog agility, delicious food and drink, and so much more!
Just take a look at some of the great events
and displays going on across the weekend!
Family Fun!
Make sure you head to the main arena as there's so much going on. There's The Glenmoriston Pipe Band, Sheep, Dog & Duck Displays, Falconry and lots more. There's loads to keep the kids entertained too with fairground rides, bungee trampolines, simulators, water walking balls, farm alpacas, junior clay shooting and fishing, sensory workshops with Beebops LTD and donkey rides too.
Love Horses?
If you're mad about horses you'll love the excellent equestrian displays and workshops, including UK Horseboarding Arena Demos, Scurry & Trails Driving, Gary Witheford 'Magic Man', farrier services and lots more.
It's All About The Animals!
Of course there's loads of events showcasing man's best friend with Pet Dog Show, Dog Agility, Terrier & Lurcher Racing, K9 Aqua Sports as well as our feathery friends too at The Falconry Village and their Falconry Displays.
Back To Basics!
If Bear Grylls is your thing then make sure to head to the Forestry Area, enter into one of the climbing and cutting competitions or take part in the pole climb. There's woodland sculptures and more to explore too.
It's All Very Tasty!
Stop by the game fair country kitchen as there's a great line up of cookery workshops and demonstrations, plus the chance to enjoy mouth watering food and drink. The Dog and Duck pub also gives you to the chance to have a seat and take a break from all the action.
There's live music from different artists during the day, over the weekend in the 'Dog and Duck' pop up pub.
Love to shop? There's over 350 stands to explore filled with fashion and footwear through to to gun makers, fishing equipment and home improvements.
East Anglian Game &
Country Fair 2016

Saturday 22nd &
Sunday 23rd April
Euston Estate, Thetford, IP24 2QH

Trending on Heart
Comments