EXCLUSIVE: Jim Carey reveals he was in a 'drunken haze' when agreeing to 'Dumb and Dumber To'.
The 52–year-old actor jokes that a "drunken" movie session may have inspired him to approach co-star Jeff Daniels about reprising their roles as Lloyd Christmas and Harry Dunne in a follow-up to the 1994 comedy classic.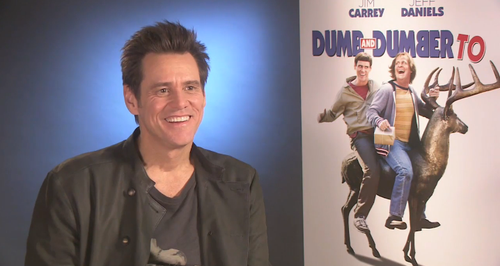 It's hard to believe that it's been twenty year's since Dumb and Dumber first hit our screens, and now the lovable duo are back for a hilarious sequel this Christmas.
"I watched the film in a drunken haze and I thought…'The world needs these guys!'" Jim Carey revealed to Heart's showbiz reporter Kevin Hughes on his decision to return to the film.
The actor also claims reuniting with Jeff Daniels has been "absolutely amazing", going on to describe his co-star as "completely mad".
In the latest installment of the comedy, Harry learns he has a long-lost daughter and snaps his pal Lloyd out of an apparent fugue state to embark on a journey across the country in hopes of finding her.
Don't Miss! Could Jim Carey be returning to screens as Ace Ventura Pet Detective? Watch the video to find out!
'Dumb and Dumber To' is out now!
Play
Jim Carey talks Dumb and Dumber To!
03:36
The actress Tweeted a plea for help to her followers after some of her jewellery went missing.
The singer starred in a recent episode of the show which received mixed reviews.