There's No Excuse For Poor Driving!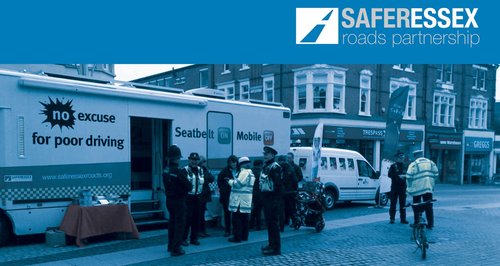 We've teamed up with The Safer Essex Roads Partnership to remind you that there's no excuse for poor driving!
With the nights getting darker and the weather starting to change, it's a good time to think about safety on the roads and remind you that there really is no excuse for poor driving!
So, we've teamed up with The Safer Essex Roads Partnership*, which work hard to ensure everyone who use Essex's roads stay safe; to remind everyone, whether you're a motorist, motorcyclist or passenger, about some simple rules...
BELT UP!

Always wear a seat belt in the car and don't forget it's your responsibility as a driver, to make sure all
under 14s are safely belted up!

GET OFF THE PHONE!

Is that text or call worth putting
your own or your family's lives at risk?

Never use a phone when driving,
even if it's hands free, as you're
4 times more likely to have an accident!

DON'T DRINK & DRIVE!

Never drink or use drugs, and drive or ride.

Even a small amount will impair your
ability and that includes prescription or
over-the-counter medication.

The only safe choice is DON'T!

WATCH YOUR SPEED!

Pay attention to speed limits and stay
within them.

Make sure you adjust your speed according
to conditions, for example, by slowing down
when it is raining.

Better late than never!

BE NICE!

Don't exhibit anti-social driver/rider behaviour!

Be courteous and think about
other road users.

DRIVE SAFELY!

The most common causes of collisions in Essex, Southend and Thurrock are:

• Failing to look properly
• Failing to judge another road user's
path or speed
• Careless or reckless driving or being
in a hurry
• Poor turns or manoeuvres
These key areas of road safety are targeted during the regular 'Surround a Town' (SAT) events, which target areas in the county where research has shown that the most crashes and casualties occur.
Drivers who are committing a driving offence, such as being on the phone whilst driving, are stopped and staff from the Safer Essex Road Partnership offer road safety education or, if necessary, issue a Penalty Notice.
* The Safer Essex Roads Partnership is a partnership between Essex County Council, Essex Police, Essex County Fire and Rescue Service, Highways England, East England Ambulance Service, Safer Roads Foundation, Southend Borough Council, Thurrock Council and the Essex & Herts Air Ambulance Trust.