Devon's Crealy Adventure Park
Find out what's NEW this summer at Devon's Crealy Adventure Park.
Take a step on the wild side and visit Meerkat Manor, hang around at the Marmoset Monkey enclosure and visit the Alpacas in the Wilderness, where you can also hand feed the tame deer, climb into the tree houses, meet gruffle goats and take on the River Radars Challenge

AHOY there my hearties! Head to Pirates Cove and meet the friendly pirates, scale the fortress of Pirates Revenge and jump aboard the Flying Dutchman and be swing through the air on the pirate ship.
Visit Captain Jack's Shake Shack and enjoy some tasty morsels of milk shakes, ice cream and snacks – Aaarrrggghh this be tasty grub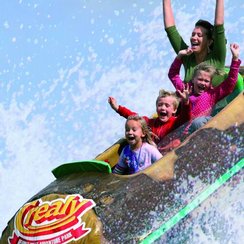 PLUS everyone is coming to Crealy this summer! Some of TV's favourite characters will be making very special appearances at the Park including Scooby-Doo on 3rd August, Fifi and Bumble 10th August, Sportacus 16th August and Postman Pat and Jess the Cat on 24th August.

With all of this to do, masses of adventures, exciting rides to brave, countryside to explore and so many animals to meet, you'll find there is too much to do in just one day!
And because Crealy loves to see you time and time again, you'll get to come back for the next six days FREE of charge, following your first paid visit!
Crealy Great Adventure Park,
Clyst St Mary, Exeter,
Devon, EX5 1DR