Northampton Balloon Festival 2017
14 July 2017, 11:46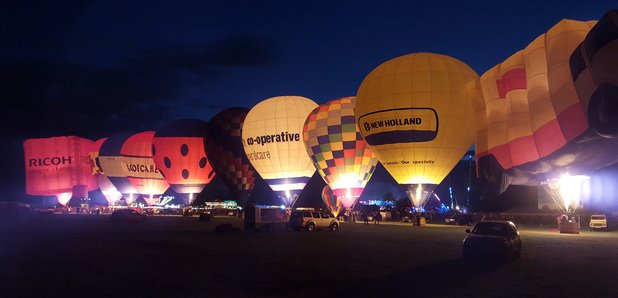 Join us for the 2017 Northampton Balloon Festival at Billing Aquadrome from Friday 18th to Sunday 20th August!
Whilst ballooning is a weather dependant activity the balloonists want to fly, so if the conditions allow, the balloons will be flying at both 6am and 6pm on each of the three days of the event.
Plus, at 9.00pm on Saturday evening, don't miss the famous "Balloon Glow", as all the Balloons turn into giant lanterns tethered to the ground. They will also fire their burners in time to music – its magical!
Entry to the Northampton Balloon Festival is FREE to all holiday makers staying at Billing Aquadrome (minimum 3 night stay applies) Alternatively public day passes are available;
Car: £5
Adult: £5
Child under 16: Free
Programme
Ballooning is weather dependant.

Friday 18th August
6am Balloon Flight
15:00 Opening of the stall and Fairground
18:00 Balloon Flight
20:00 Music Band in the marquee: http://www.tallawah.co.uk/
Saturday 19th August
6am Balloon Flight
11 am Sports Kite demonstrations – Opening Stall
12pm Falconry: Icarus Birds Flying Show – Opening FUNFAIR
12:30 Lunch Time Fun with Dizzy Duck
13:00 Extreme Mountain Bike Show
14:00 Meet the Pilot, Balloon Tethering
14:30 Extreme Mountain Bike Show
15:00 Solo Artist live on stage: Agi Jarocka
15:15 Sports Kite demonstration and Big Bubble Show
15:45 Falconry: Icarus Birds Flying Show
16:45 Extreme Mountain Bike Show
17:15 Solo Artist: Jimmy Chase
17:30 Big Bubble show
18:00 Balloon Flight
19:00 Extreme Mountain Bike Show
20:00 Music DJ: Built up to the Glow Show
21:00 Balloon GLOW SHOW
21:30 Music Band live on stage:
Sunday 20th August
6am Balloon Flight
11 am Sports Kite demonstrations – Opening Stall
12pm Falconry: Icarus Beautiful Birds Show – Opening Fairground
12:30 Lunch Time Fun with Dizzy Duck
13:00 Extreme Mountain Bike Show
14:00 Meet the Pilot, Balloon Tethering
14:30 Extreme Mountain Bike Show
15:00 Solo Artist on the stage: Joe Dury
15:15 Sports Kite demonstration and Big Bubble Show
15:45 Falconry: Icarus Beautiful Birds Show
16:45 Extreme Mountain Bike Show
17:15 Solo Artist on stage: Jack Little
17:30 Big bubble show
18:00 Balloon Flight
19:00 Extreme Mountain Bike Show
And check out the brilliant pictures from previous years courtesy of Phil's Balloons