Win A Samsung Tablet Computer With Central Bedfordshire College!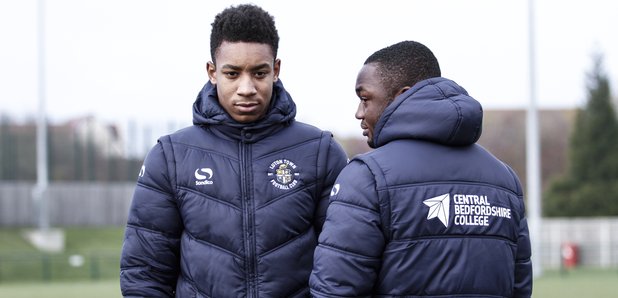 Our Drivetime Presenter Gareth has been sharpening his skills thanks to Central Bedfordshire College and we've teamed up with them to give you the chance to win a Samsung Galaxy Tablet.
Our Heart Drivetime Presenter Gareth has been getting ready for his new show by sharpening up his skills in everything from sport to English, all thanks to Central Bedfordshire College!
Make sure you're listening to Gareth every afternoon from Monday 21st to Friday 25th August, because we're testing your knowledge and giving you a taster of what it's like for all the students receiving their GCSE results, and in return, you could be winning a Samsung Galaxy Tablet.
Gareth will be asking a question which has been featured on an old GCSE paper and if you enter with the correct answer you could be the winner of that tablet - perfect if you're heading off to college this September or know someone who is.
The questions could be on anything from Technology and Digital Media to Sport or Social Care, so be ready to text in your answer to 82122 each day for your chance to win!
Heart Drivetime Competition Terms & Conditions
You can achieve more at Central Bedfordshire College, the county's most successful (and friendly) College which has been rated GOOD by Ofsted for the second time in a row for the quality of its provision.
The College provides students with a vast array of education and training for all levels and careers, and has recently invested in new facilities at its Dunstable campus, and a brand new engineering and construction skills centre opening in Leighton Buzzard this September, meaning students leaving the college have the qualifications and the hands on skills that are needed in the workplace. An incredible 98% of all students go on to employment or higher education.
Central Bedfordshire College has excellent employer partnerships with Amazon, local councils, Luton FC and many more, helping you find your path to employment. Courses provide clear career pathways and are taught by industry experts, providing students with the skills and knowledge employers want.
There's still time to enrol for September, whether you are a school leaver looking for a full time course, want to study at a higher level, like the sound of learning while you earn with an apprenticeship, or want to head back to college part time to learn a new subject. A visit really is the best way to get a feel for what it's like to be a Central Bedfordshire College student.
Open days are on Thursday 24th and Friday 25th August and there's refreshments and a BBQ each day, so come find out what it would be like to be a part of one of Bedfordshire's most successful Colleges!
Trending on Heart
Comments