Help Woburn P-P-P-Pick A Penguin Name
6 July 2017, 14:48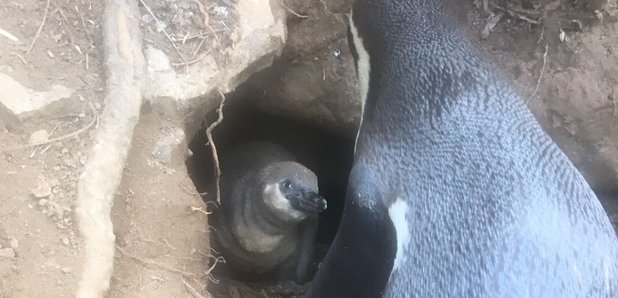 Our friends at Woburn Safari Park need your help to p-p-p-pick a name for a newborn baby Penguin. Woburn are celebrating the birth of three vulnerable Humboldt Penguin Chicks, and they now need your help to name one of them!
The first two new chicks have already been named "Brie" (born to mum Cheese and dad Arrow) and "Guacamole" (born to mum Salsa and dad Leaf).
Now it's your turn! Want to suggest a name for Leaf and Salsa's second Chick? The new chicks are currently unsexed and the Keepers will pick their favourite gender-neutral name from all the entries, not only that, but the winner, announced on July 28th will win an amazing VIP Off Road Safari Adventure with the chance to meet and feed the Penguins and a £50 gift voucher to spend in Junglies Gift Shop!
And to find out more about Woburn's VIP Off Road Safari Adventure
Woburn's keepers have come up with some interesting names for the penguins over the years, naming them after favourite menu items or to reflect the birds' spot patterns! Proud parents Cheese and Arrow were named after the spot patterns on their breasts which reassemble a cheesy grin and an arrow. New mum Salsa was named after a South American dip and dad Leaf was named after the leaf-shaped space between his many spots.
Humboldt penguins are classified as vulnerable to extinction on the IUCN Red List (International Union for the Conservation of Nature) and the birth of the new chicks at Woburn is important for the conservation of the species. Humboldt penguins originate from South America on the coasts of Chile and Peru. In the wild, Humboldt penguins use their droppings (known as 'guano') to line their breeding nest sites. Droppings are high in nitrates and are harvested by farmers for use as fertiliser for Peruvian agriculture.
At the end of May, Woburn's keepers held a special fundraising weekend and raised over £1,300 for the Sphenisco charity project (see sphenisco.org), which supports research and the conservation of Humboldt penguins on the coast of Chile.