A38 Closed For Bridge Work
13 February 2017, 14:39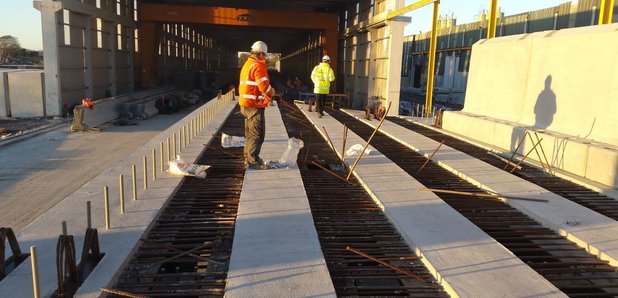 A major Gloucestershire road is closing so an old bridge can be removed and a new one put in it's place.
The A38 will be shut at Berkeley Bridge from 14th-23rd February so a large crane can be brought in and it's so big it covers both carriageways.
The railway line will be temporarily closed over the weekend of Friday 17th-Monday 20th February and trains between Gloucester and Bristol will not run during this time.
Last year Gloucestershire county council undertook work to prepare the old structure for removal, also carrying out resurfacing and strengthening to enable it to be lifted out.
Once complete, it's hoped the improved road will help trigger additional investment in the area.
Cllr Nigel Moor, cabinet member for fire, planning and infrastructure, said: "Solid progress is being made on the replacement of Berkeley Bridge - 2017 has opened with a strong start as we resume work to bring this local road up to speed.
"Last year saw complex preparations to move the existing bridge: engineers worked to reinforce the structure after investigations showed significant weaknesses that would have caused problems during removal. Replacing this bridge is an extremely technical operation requiring time and skill. I would like to thank road and rail users for their patience during this time, and look forward to the A38 being 'business as usual' once the project is complete in May this year."