Heart Breakfast's Kiss At The Kiss
Could Heart Breakfast find a couple willing to 'bare all' for love this Valentines Day? Watch the video!
Auguste Rodin's The Kiss, has returned to Cheltenham Art Gallery & Museum this Valentine's Day, 80 years after its initial display.
To celebrate it's arrival Heart Breakfast went on the search for a Gloucestershire couple willing to 'bare all' and recreate The Kiss at…The Kiss! And to say a big thank you, the newly famous couple will also get a Valentine's meal out at The Mayflower Restaurant, Cheltenham.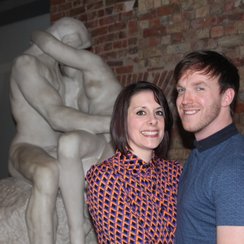 But could Warren find somebody willing to take part and have their naked photos taken by Two Front Teeth Photography?
If you want to see the iconic sculpture, as well as the photo we recreated, it's in the gallery until August so make sure you go along and check out this famous smooch.
"The Kiss" images rights thanks to Blink Images and Tate London, 2013
They did it!! Carina and Kevin Keller from Churchdown bared all for a naked embrace. See all the photos here!
Hear our search for a Gloucestershire couple brave enough to bear all for Valentine's Day!