DFDS Seaways
DFDS Seaways is the only ferry operator that travels from Dover to Dunkirk, so passengers find that the port is a lot less congested than Calais.
DFDS Seaways (formerly Norfolkline), provides an award-winning passenger ferry service on its Dover to France route.
Operating up to 24 ferry crossings daily, every two hours, seven days a week the crossings take just approximately 2 hours.
The crossings from Dover to the Port of Dunkirk are designed for people travelling with their own vehicles, which means no foot passengers and plenty of space onboard for sitting and relaxing.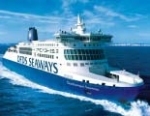 Dunkirk also benefits from excellent onward road connections to other parts of France, Belgium, Germany and beyond, so travelling to your destination from the ferry couldn't be easier.
There is also the added benefit of shorter check-in times, as well as being able to take as much luggage as you like in the car for your trip.
Onboard its ferries, DFDS Seaways offers a variety of food outlets to suit all tastes and budgets and has a dedicated children's play area - with ball ponds and climbing frames for families travelling with small children.
DFDS Seaways was recently named as the only recommended ferry operator by Which? Travel (July 2011) and with fares for journeys between Dover and France starting from just £19 each way for a car and up to four passengers, it;s the ideal choice for your next trip across the channel.
To book your trip - Telephone 0871 574 7241
or visit www.dfdsseaways.co.uk