Iconic Body Art At The Festival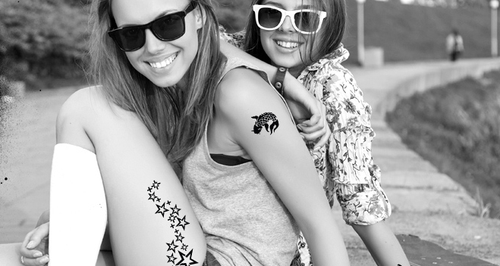 The biggest and fastest growing trend to take the celeb fashion and beauty world by storm is coming to the Sound Island Festival thanks to Iconic Body Art!
Get the celeb look with a temporary tattoo which looks as good as the real thing! The only difference ... it's not permanent so you can chop and change them as much as you want, they're great for the festival season and for adding a little attitude to your outfit.

You can get your feel-good fashion fix for the weekend and apply your favourite tattoo on Friday night, rock it for the weekend and then wash it off in time for Monday morning.
The guys at Iconic Body Art have loads of designs, from grungy stars and tribal designs, to cute ribbons, butterflies or flowers, the choice is yours and they're safe and easy to apply.
The tattoo packs are available in two sizes; small and large, so depending on how adventurous you feel, you can have a subtle look or something that pushes fashion boundaries.
They can spray your tattoo design on right there at the Festival or you can take home a pack to apply yourself, so step up to their stand and get ready to show off your tats this summer!
Iconic Body Art from Anna Leach on Vimeo.