Kent Uni Staff On Strike
22 February 2018, 09:31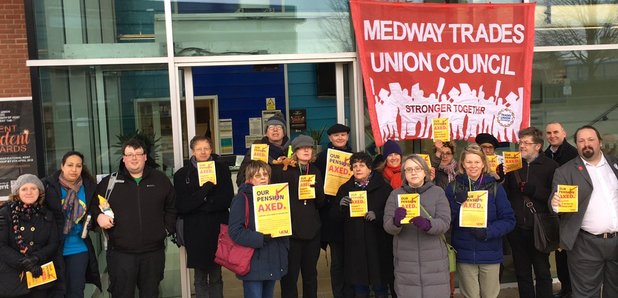 The University of Kent says most classes will go ahead today - despite loads of staff being on strike.
There are picket lines outside campuses in Medway and Canterbury.
Some lecturers are walking out for 14 days in a dispute over their pensions.
Members of the University and College Union (UCU) at 64 UK institutions are staging the first in a series of strikes after voting in favour of industrial action.
Tens of thousands of workers are expected to take part in the walkouts, which have been described as "disappointing" by university bosses.
The dispute centres on proposals put forward by Universities UK for changes to the Universities Superannuation Scheme (USS).
Employers argue that the pension scheme is billions of pounds in deficit, while the union says the proposals would leave a typical lecturer almost £10,000 a year worse off in retirement.
Strikes will take place today and tomorrow, with more in the coming weeks if there is no resolution, building up to a five-day walkout in the week beginning March 12.
UCU said it expected that tens of thousands of its members will take part in the action, with over a million students affected and 575,000 teaching hours lost.
There have been reports that thousands of students have signed petitions demanding compensation from universities for classes lost due to the strikes.
UCU general secretary Sally Hunt, said: "The scale of these unprecedented strikes reflects just how destructive the proposals would be for staff pensions and their anger at university leaders to come back to the table to negotiate.
"Despite the fact that over a million students are going to be affected, university employers have been unwilling to reconsider their position and look at reasonable alternatives which would give staff security in retirement.
"Nobody is taking this action lightly, but the ball remains firmly in the employers' court. If further disruption is to be avoided, university leaders must put further pressure on their representatives to get back to the table for meaningful discussions with UCU."