These Are 2017's Most Popular Names For Cats And Dogs!
7 December 2017, 16:06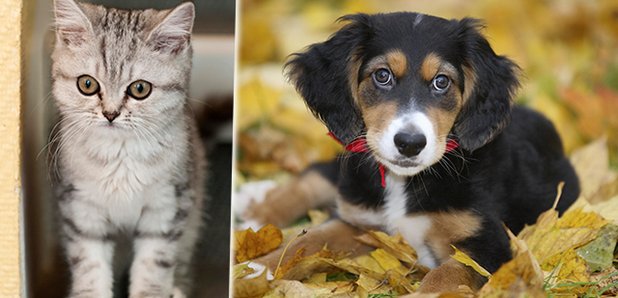 Spoiler: They're all seriously cute!
We've seen the lists of top baby names, but ever wondered what the most popular names are for our pets?
(Let's face it, they're basically our babies too, right?)
It takes a lot of hard thinking to come up with the perfect name for our little ones (be them human or otherwise), and Argos Pet Insurance have decided to run a survey to discover what the most 'on trend' names were for both cats and dogs this year.
WATCH: Cheeky Cat Uses Her Dog Pal As A Pillow!

First up, the dogs!
For the males, the most popular names are:
1. Alfie
2. Charlie
3. Max
4. Oscar
5. Buddy
6. Archie
7. Bailey
8. Teddy
9. Milo
10. Toby
And the females:
1. Poppy
2. Bella
3. Molly
4. Daisy
5. Lola
6. Ruby
7. Millie
8. Rosie
9. Tilly
10. Roxy

Credit: PA
Onto the cats...
For the males:
1. Charlie
2. Oscar
3. Alfie
4. Max
5. Milo
6. Jasper
7. George
8. Leo
9. Simba
10. Harry
And the top female names are:
1. Poppy
2. Bella
3. Molly
4. Tilly
5. Daisy
6. Millie
7. Lola
8. Lily
9. Rosie
10. Willow

Credit: PA
Whether you're a cat or dog lover, there seems to be a lot of overlap on names, with Poppy flying the flag for females all round.
No wonder our dogs ignore us when we call them in the park - they all just assume we're calling one of the other five 'Alfie's' running free!
And equally, it also makes sense as to why our cats just permanently ignore us 24/7 - they don't know which 'Poppy' we're pestering for lap cuddles!