5 Reasons Why Toner Is The Ultimate Secret Weapon For Healthy Skin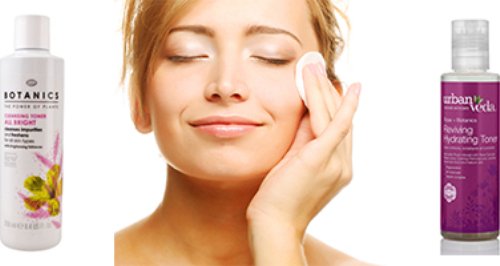 We. Love. Toner. Okay there, we said it! These skin purifying and clearing lotions have garnered themselves a bad rep over the years, but those days are well and truly behind us. Now, there's a whole host of amazing toners available to remove impurities, banish spots and give you a brighter complexion.
Toners have been around for years as part of traditional 'cleanse, tone and mositurise' routines, but many old-fashioned formulations contained alcohol – which dries the skin. Lucky for us, those recipes have been banished in favour of skin perfecting solutions that really work.
Thinking of giving toner a try? Here are five reasons why you'll never be without this beauty secret weapon ever again…
Control Oily Skin
Skin is naturally slightly acidic, but cleansing with alkaline soaps can throw off our natural balance and result in excess oil production. Toner can tackle this by bringing balance back to the skin on the face and neck. The result is less oil, clearer skin and fewer blocked pores. Toner is also great for anyone who wants extra cleansing after wearing make-up or suntan lotion.
Try: Urban Veda Purifying Hydrating Toner, £13.99, www.urbanveda.co.uk
Did you know?
You can get a full size Urban Veda toner plus £70 worth of amazing skincare and beauty saviours in the Heart Beauty Essentials box for just £17.99! We've partnered with Latest in Beauty to bring you this brilliant non-subscription offer, which is only available while stocks last.
Check out some reviews with the hashtag #HeartBeautyEssentials
Seriously loving the new @thisisheart Beauty Essentials Box! @LatestInBeauty #HeartBeautyEssentials pic.twitter.com/2PiEPXuv4E

— Natasha Walsh (@natwalsh7) September 22, 2015
Reduce Problem Spots
If you have spot or acne prone skin look out for toners with formulations of beta and alpha hydroxyl acids, like salicylic or glycolic acid. These amazing ingredients gently exfoliate the skin to remove impurities and unblock pores.
A good toner can also help to close pores and tighten the gaps between them, meaning you're less likely to get spots in the long term. Result!
Try: Eucerin DermatoCLEAN Clarifying Toner, £9, www.eucerin.co.uk
Get Brighter Skin with Antioxidants
Antioxidants, like the kind you find in berries and the odd glass of red wine, can neutralize any nasties lurking on the surface of the skin for a more radiant complexion. Look out for toners that contain ingredients like vitamin C and witch hazel.
Try: Botanics All Bright Cleansing Toner, £3.99, www.boots.com
Calm Redness and Sensitive Skin
Toners can also be brilliant for anyone with sensitive skin, just as long as they are alcohol-free. Look for calming ingredients like aloe vera and evening primrose oil to reduce red, flaky skin.
Maximise Moisture
If you're tackling dry, patchy areas of skin with moisturiser, that's great…but what about toner? Products with vitamin E can help to prepare the skin for moisture, meaning you're skin will be more sponge-like. If you've got mature skin, look out for toners with retinoids and other anti-ageing properties to add an extra skincare weapon to your anti-ageing arsenal.
Try: L'Oreal Paris Dermo-Expertise Age Perfect Refreshing Toner, £4.79, www.loreal-paris.co.uk