Got FOMO? (Fear Of Missing Out) Just FIT IT IN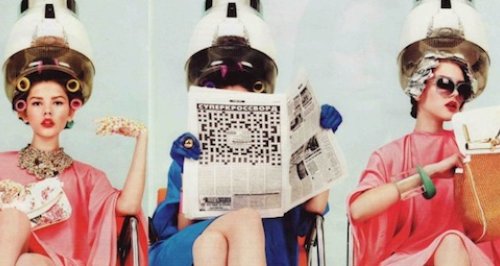 No time to go for a blow dry or no money to get your nails done at the salon? No problem. Here's five ways to fit the finer things into your busy schedules…
If there never seems to be enough time to do your own thing but you're terrified of missing out on the latest beauty trend or treatment – here's how you can fit them into your busy schedules and save heaps of money too.
No Time To Tan? No Problem.
If you've got the holiday blues, fake it with St Tropez's ground-breaking gradual tan that you can use in the shower (yes, really.)
It was the fastest selling beauty product of the summer so the days of sitting in nothing but a towel waiting for your tan to dry off, ruining the bed sheets and smelling like a digestive biscuit, are over. Take the fuss out faking it by lathering this new lotion onto wet skin and wait for just three minutes (that's the time it takes to brush your teeth) before fully rinsing it off. The colour develops over eight hours, and you are left with a natural, golden glow – all from just from having a shower. Result!
Try: St Tropez Gradual Tan In Shower Lotion, £14.50, www.sttropeztan.co.uk

Blowdry Or Blowout?


No one blowdries your hair quite like a salon – but having regular blowdries can take its toll on your bank balance (not to mention the time you just don't have anymore.) Solution? Bring the salon to your home by investing in a heated blow dry brush. Say goodbye to rough drying at home or getting that round brush stuck in your hair as you attempt to blowdry your barnet like the stylist does so effortlessly. The Diva Radiant Shine Diva Radiant Shine Ionic Heated Brush is a two in one hair dryer and rounded brush so you no longer have to struggle with lack of hands.
Try: Diva Radiant Shine Ionic Heated Brush, £19.99, www.salon-services.com

Nailed It!


In an ideal world we'd be able to go on bi-monthly trips to the salon but we often don't have the time (or money) to get our nails done professionally. Thankfully, home gel nail kits have become the manicure holy-grail, creating shiny, bright, hard-wearing nails that are and immediately put-your-hand-in-your-bag-and-rummage-around-for-your-keys dry. OK, it's a bit of an investment upfront, but with at least £25 a pop in the salon, you'll be saving money in the long-run.
Try: Ciaté Geltox Nail Polish Starter Kit, £99, www.ciatelondon.com

Going To Great Lengths...
Hair extensions: at their salon best can transform locks from lacklustre to va va voom, and at their worst they can look classless, cheap and and downright EEK. But some clip-in-extensions can be a great style investment for mums-on-the-run who just don't have the time (or money) to sit for hours while their hair is bonded by professionals. Fake it but make it undetectable by clipping extensions below the ear and backcomb your hair beneath the line, so that the clips stay put.
Try: Hairaisers Human Hair Clip in Hair Extensions, From £69.95, www.hairaisersshop.com