Celebs And Bloggers Love Our Heart Beauty Essentials Box!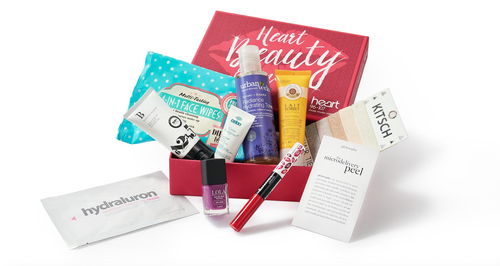 It's official! Our Heart Beauty Essentials box is causing quite a stir among some of the UK's best beauty bloggers and the Heart radio team to boot.
We've teamed with Latest in Beauty to bring you £70 worth of beauty and skincare heroes for just £17.99, including full size items and a brilliant moisturising mask we can't stop raving about.
The Heart family is loving the box too! Check out what Lucy Horobin and Zoe Hardman had to say…
Enjoying my fab new @HeartFMBeauty box tonight.....and pulling silly faces obvs.... pic.twitter.com/KBS7hdphfN

— Lucy Horobin (@LucyHorobin) September 21, 2015
Our carefully selected Heart Beauty Essentials, including a full-size skin brightening Urban Veda toner, have also impressed some of the UK's top beauty bloggers.
Sparkle Queen even shared her grand 'unboxing' on YouTube…
See what some of our other favourite bloggers had to say on social media…
@HeartFMBeauty @LatestInBeauty I've ordered it! It looks so good & I'm looking forward to trying it :-) #HurryUpMrPostman #BeautyBox

— Kate Roberts (@KateIsCoveting) September 21, 2015
Seriously loving the new @thisisheart Beauty Essentials Box! @LatestInBeauty #HeartBeautyEssentials pic.twitter.com/2PiEPXuv4E

— Natasha Walsh (@natwalsh7) September 22, 2015
Have you got your mitts on the @latestinbeauty @heartfm Beauty Essentials Box yet? #bbloggers #makeup #beauty http://t.co/BRp13tX8Ni

— Spex & Lipstick (@amiisteward) October 11, 2015
If you want to snap up your own Heart Beauty Essentials box (strictly non-subscription only, of course!), visit Latest in Beauty NOW!