10 Thoughts We've All Had When Shopping For Beauty Products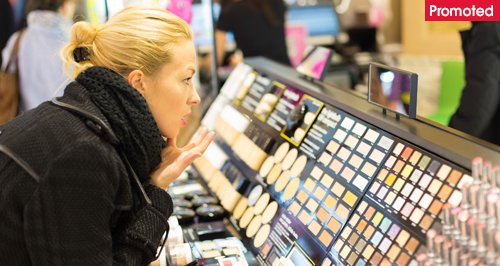 Will this colour actually look good in the light of day? How on earth do I decide what to buy? Eughh that perfume stinks! And plenty of other thoughts we've had in a beauty department...

We've all had that feeling when you walk into a High Street store's beauty department and think 'where on earth do I start?'
Whether you're looking for a red lippy or a whole new makeup bag, there are so many brands, bold claims and options that it's impossible to know where to start.
Next time you're in the beauty lion's den, remember we've all had these thoughts at one point or another...
How am I supposed to make a decision?
There are so many sales assistants calling you over, so many lights, sounds, shades and skincare solutions...it's almost impossible to know where to start. We recommend going with an aim in mind - if you need mascara ask every counter what there best offer is, why it's great and how much it costs. Remember, they are there to sell to you, so if they're not helpful, walk away!
I need a neon sign saying 'this is what you should buy!'...
Wouldn't it be nice to walk into a shop and there was an impartial expert who could tell you whether a product with bold claim is worth buying or not. Now that would be a dream come true!
The promises on this sound too good to be true...
If something says it's going to knock 20 years off your age it's probably pulling your leg. Be wary of bold claims on packaging and ask for a try-before-you-buy sample, and don't let those free makeover sessions fool you...having a professional makeup artist do your face is going to make you feel great, but can you recreate it at home?!
Wrist, neck, jawline...where am I supposed to test foundation shades again?
Your neck has the most consistent skintone, so test foundation colours there and work upwards towards your jawline - you should be able to notice straight away if a colour doesn't match. If in doubt put a few sample colours onto your neck and exit the store to see yourself in natural light. Once you're done head straight back in and spend, spend, spend!
Why is this concealer green?
If those bright violet or green concealers are bringing you out in a cold sweat DON'T panic, here's what you need to know. Green concealers can neutralise patches of redness on your face, so start with those if you're a little rosy, and violet can counteract yellowish hues. If you've got eye bags, try baby pink or yellow concealers to tackle darker patches. You'll be party ready in no time!
How can a makeup brush be more expensive than the makeup itself?
We know right! Makeup brushes can be super expensive so it's worth shopping around for the perfect balance of quality and price. Think about what bits of your makeup you can do with simple cotton buds or your fingers before splashing out. We recommend investing in some quality foundation brushes to get your skin looking flawless, like the Real Techniques Foundation Brush, £8.99, here.
Yes, I do need that lipstick (even though I already have 12)...
It's so tempting to keep buying more even thought we all know we've probably got enough! That bang on-trend neon pink lipstick may seem like a great idea in the shop, but will it really look good walking down to the corner shop to get a pint of milk? Ask yourself that before walking to the till.
I really want to try the tester but it looks gross!
Testers are harbingers of bacteria, but most beauty counters at department stores have disposable cotton buds and applicators that you can use instead. If not, try putting a bit of the product on the back of your hand as opposed to applying it directly to your face.
Is this contouring kit for real?
Sometimes products look so complicated and faffy that we just can't be bothered...we've only got a few minutes to get dolled up in the morning and it needs to be easy, not a military operation! That three-step kit may sound easy, but in reality it could drive you barmy. Think about your own patience levels before you buy!!
Why is everything full of glitter?
Your face looks epic...that is until you step into natural light and you look like a glitter ball! Test products on your inner wrist and give it a twist in natural daylight before parting with your hard-earned cash.
Want to take the stress out of shopping for brilliant beauty products?
The new Heart Beauty Box contains an edited selection of some of our favourite hero beauty and skincare products by incredible brands like REN, Garner, Nails Inc. and Sanctuary.
In fact, it contains over £77 worth of beauty buys which you can snap up for just £20 plus p&p. Find out more about the Heart Beauty Box here
What are you waiting for? Get all of these treats just in time for the summer season by

clicking here

...