Why We're Championing Indeed Labs Hydraluron Moisture Mask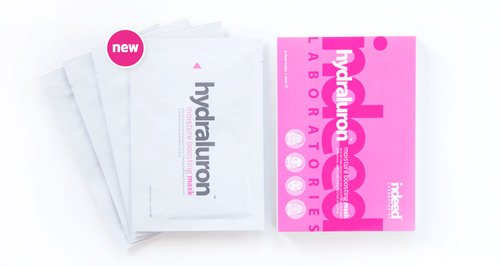 If you're skin is feeling dull, tired, lifeless and generally a bit blah then we've discovered the ultimate mask for you. In fact, we're so impressed we reckon it could go head-to-head with triple-the-price salon facials!
If the concept of covering your face in clay is your idea of hell then this sheet mask from Indeed Labs is the solution from beauty heaven.
The Indeed Labs Hydraluron Moisture Boosting Mask has a special 3D enzyme structure allowing skin-boosting hyaluronic acid to be released slowly over time. This means you get longer lasting relief from dry skin, plus a whole host of benefits like smoothed lines and wrinkles and reduced redness.
But don't just take our word for it. There are loads of you who've already tried, tested and loved the Hydraluron mask, including our very own presenter Lucy Horobin.
Enjoying my fab new @HeartFMBeauty box tonight.....and pulling silly faces obvs.... pic.twitter.com/KBS7hdphfN

— Lucy Horobin (@LucyHorobin) September 21, 2015
Can't use @indeedlabs hydraluron moist mask & not take a pic @heartfmbeauty @LatestInBeauty #heartbeautyessentials pic.twitter.com/8C6dPo5Ri2

— Natasha Walsh (@natwalsh7) September 28, 2015
Okay, so we admit it…it does look a tiny bit horror movie meets Caspar the friendly ghost, but if it's effective do we really need to care?!
If you haven't guessed by now this is a sheet mask, so make sure to apply it to freshly cleansed skin and avoid the eye area. After 15 minutes, remove the sheet and massage any of the remaining serum into the skin and follow with moisturiser.
Want to give it a go, but don't want to splash out the £20 for a full-size pack? Grab yourself a beauty bargain and a sample size Hydraluron Moisture Boosting Mask in the amazing new Heart Beauty Essentials box.
We'll deliver £70 worth of beauty and skincare saviours to your door for just £17.99 thanks to a great partnership with Latest in Beauty.