Multi-Masking: The New Beauty Trend To Try Now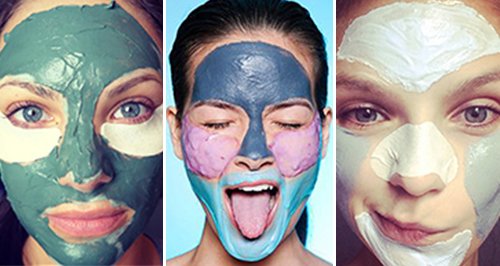 Want to up your face mask selfie? The latest skincare secret is one face mask just isn't enough! Here's exactly how to face the new Multi-Masking skin strategy – and why it works…
Back in the day, face masks were the staple beauty treatment at every sleepover – but getting older doesn't mean the fun has to end. And why stop at just one mask when you can apply five? Multi-Masking may have been around for a few years now, but in the age of Instagram, this beauty trend has resurfaced and gone viral.
It's no wonder this beauty trend has become an online phenomenon – as the name suggests, Multi-Masking combines several different masks at once to target specific areas on the face – why has no one thought of this before? It's genius.
So why does it work?
Nobody's face is the same all over so it's common to have combination skin and a mixture of different skin issues. Naturally, it seems sensible to treat each area separate, assessing your current skin conditions and artfully applying different masks accordingly.
This isn't just about creating a pretty collage on your face or another Insta-scam to get more followers – it's the new and more effective way to sort out your skin. You treat an oily T-zone with one mask while simultaneously using a hydrating option for dry areas and more delicate treatments for the sensitive under eye area.

T-Zone:
For the forehead, nose and chin (T-Zone) the best masks would be mattifying and pore-clearing. Clay and charcoal masks are best to remove blackheads as they draw out impurities – the charcoal acts as a magnet to deep-dwelling pore-cloggers. Certain mattifying masks (especially clay masks that draw impurities out of the skin) can be drying, so less is more when it comes to application.
Try: 5 Minute Thermal Detox Mask, £10.20, www.sanctuary.com
Pore Refining Solutions Charcoal Mask, £23, www.clinique.co.uk
Cheeks:
A mask that intensely hydrates your skin is recommended for your cheeks so opt for a collagen-rich and creamy mask that will prevent premature ageing and inject a moisture boost back into your skin.
Try: Drink Up Intensive Overnight Mask, £23, www.origins.co.uk
Rosy Cheeks Fresh Face Mask, £6.50, www.lush.co.uk

Under Eyes:
The skin around the eye area is far thinner than the rest of the face and should be treated gently, but don't ignore it – it can also often be the most dehydrated. So you'll need a tightening moisturising mask. Patch masks are specifically designed to target the under-eye area and combat everything from fine lines (check) to dry dark patches (check) and puffiness (yep, check again).
Try: Dragon's Blood Eye Masks, £39, www.rodial.co.uk

Pro-Collagen Hydra-Gel Eye Masks, £46, www.elemis.com
Because one mask doesn't fit all, multi-mask away!