10 Exclusive Make-Up Tips From Charlotte Tilbury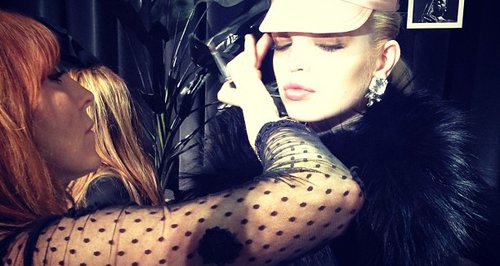 The renowned British make-up artist has revealed the tips and tricks that help her create a flawless beauty look for Kate Moss, Gisele Bündchen and more. Check out the EXCLUSIVE pointers now and recreate catwalk-worthy make-up at home...
Charlotte Tilbury is make-up artist to the stars, has worked with everyone from Kate Moss to Mario Testino, and has even launched her own make-up collection.
It's safe to say she knows what she's talking about when it comes to make-up.
The British beauty therapist has exclusively revealed to Heart the insider tips and tricks she uses to create a flawless make-up look so, you can look your best without the designer make-up artist.
You're welcome!
1. For a lip colour that lasts all night, apply Lip Cheat lip liner to the entire lip before applying your chosen lipstick shade. It primes the lips to make the lipstick last all day.
2. To instantly cheat 8 hours sleep, use your ring finger to apply an under-eye illuminator, such as my new Mini Miracle Eye Wand in a tapping motion. Using your ring finger, it will give you a softer application on the delicate eye area.
3. To choose your perfect Magic Foundation shade, check the colour in natural daylight. First, apply a small amount from your cheek, across your jawline and down your neck to ensure the shade blends seamlessly between your face and neck.
4. To find a dreamy blush for a pale skin, go for soft, peachy, pinky tones. Blushers with a finely milled, golden pearl will instantly lift the face and not appear as harsh looking.
5. For instantly wider, more awake eyes, always prep the eyes with eyelash curlers before applying mascara. My Life-changing Lash Curlers are like a push up bra for the lashes, that make the eyes appear more open and lashes longer and fuller.
6. To perfect a feline flick, simply wipe away any mistakes using a pointed cotton tip dipped in Magic Cream. It corrects without removing the rest of your makeup.
7. For killer cheekbones, suck in the cheeks and follow the hollow of the cheekbone using the sculpt shade from my Filmstar Bronze and Glow palette with the Powder and Sculpt Brush. Use a finely tapered brush, such as my Powder & Sculpt Brush, for precise application.
8. To create 3-dimensional fuller lips, apply Lip Lustre lip gloss that matches your chosen lipstick shade. Apply it from the centre of the lips outward, to instantly give the illusion of voluptuous, plump lips.
9. For an instant lift for tired, dehydrated and dull skin, apply my Wonderglow to the entire face as a primer before foundation. It contains a genius technology called Fluorescent Core which re-emits natural light through the skin for a lit from within, soft-focussed glow.
10. Create a gorgeous glowing strobing effect with the highlight shade from the Film Star Bronze and Glow palette. Apply to the natural highlights of the face; in a c-section above the cheekbones and down the centre of the nose to the cupids bow.