This Year's Pirelli Calendar Celebrates Older Women Beautifully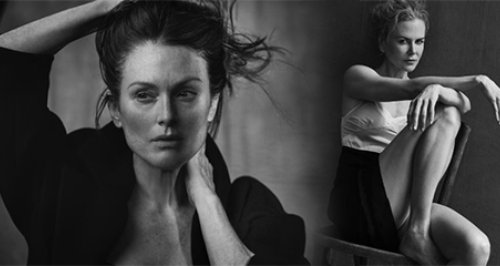 This year's Pirelli Calendar celebrates beautiful women of an older generation and they look STUNNING!
The Pirelli Calendar has an annual tradition of celebrating glamorous women on its pages thanks to the help of a celebrity photographer.
The 2016 calendar was captured by Annie Leibovitz and featured stars including Amy Schumer, Yoko Ono and Serena Williams to celebrate the achievement of women.
This year's calendar, which has been photographed by Peter Lindbergh celebrates A-list women of an older generation from Nicole Kidman aged 49 to Helen Mirren aged 71.
The calendar is a beautifully shot and features stunning black and white images of the famous women.
The photographer said of his particular choice of women that 'I thought it was important to remind everyone that there is a different beauty'.
Here's 46-year-old Uma Thurman looking like a windswept beauty...
And here's 50-year-old House Of Cards actress Robin Wright looking incredible
Juliane Moore, 55, shows her natural off her natural beauty
By showcasing these older actresses looking absolutely flawless we hope the stigma against women of a certain age an photographers opting for younger beauties will gradually start to fade away.
Because there's no denying that these women look INCREDIBLE!
C'mon, who WOULDN'T want to look like Julianne Moore?!