Night Time Hacks For A Wide Awake Morning Glow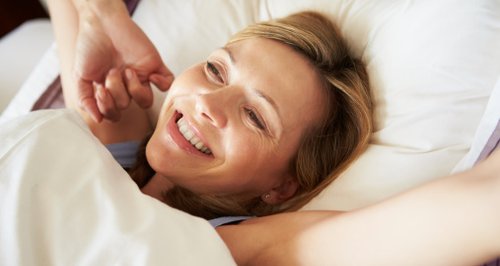 Go to bed knackered and wake up glowing with our overnight beauty and skincare top tips...

At the end of a long day the last thing we want to think about is whether our mascara is a little smudged or our legs need shaving, but what if we told you there are some simple ways to look a million times brighter when you wake up?
Give yourself an overnight boost with these top tips...
Change your pillow cases
As you sleep natural skin oils and sweat seep into your pillow cases, which means if you don't change them regularly you're likely to be resting on your own dirt. It's gross, but worth remembering if you don't change your pillow cases often.
Experts also recommend silk pillow cases for anyone with frizz-prone hair as the sleek material reduces the amount of friction as you toss and turn in bed. Got to be worth a try, right?
Take off your make-up properly
Amazingly, research suggests that people who sleep with their makeup on age faster than those who remove every scrap before bed. If you're struggling to get into the habit make a point of washing your face immediately after work when you're still awake, as opposed to those few sleepy moments before bed.
If you don't want to cleanse, tone and moisturise, try a squirt of micellar water on a few cotton pads to get rid of the worst of it!
Sleep on your back
If you sleep with your face pushed into the pillow you're essentially supporting the full weight of your head and neck on your delicate complexion! In fact, some skin experts reckon they can tell which side you sleep on based on the quality of the skin on either side of your face. Let's all remember to look at the ceiling from now on...
Stack your pillows
Gravity might cause some unwanted sagging but it works wonders on our skin drainage, which helps to reduce puffiness. If you wake up with eye bags and puffy cheeks try adding an extra pillow to your stack - around two to four inches is best according to those in the know.
Use serum and moisturiser
You wouldn't wear a thick layer of moisturiser or a shiny serum during the day but it's worth indulging at night when no one can see!
Choose a cream that suits your needs, whether that's adding brightness and reducing fine lines or soothing dry skin. You can also try adding in a few drops of false tanner so you wake up with that holiday bronze too.
Treat your hair
Grab yourself a leave-in moisturiser or overnight hair conditioning treatment, slather it all over your hair and wrap your head in a scarf or old vest top. Wake up in the morning and wash your hair as normal and ta dah! You'll have super soft, shiny hair and all you had to do was get forty winks.
If you want to wake up looking incredible we recommend slapping on some of Garnier's Miracle Sleeping Cream with anti-ageing, de-tiring and smoothing properties.
A full-sized pot (50ml) of this fantastic moisturiser is available in the brilliant new Heart Beauty Box, which contains over £77 worth of hero products by amazing brands like REN, Nails inc. and Sanctuary, and you can get the lot for just £20 plus p&p.
Find out more about the Heart Beauty Box here
What are you waiting for? Get all of these treats just in time for the summer season by clicking here...