The 5 Best Facials In The UK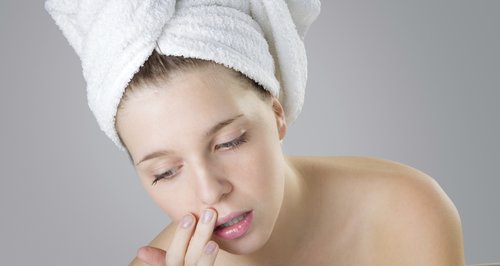 Quick booster facials, three hour holistic ones, brightening, anti-ageing, firming, balancing and clarifying: see all the best facials in the UK.
The 30 minute session at the Elemis Spa Pod in Debenhams Oxford Street, London starts with a face scan to identify problem areas under six specific categories including wrinkles, sensitivity, pores and spots. The therapist then prints out your own personalised recommendation sheet with suggested products for a facial based upon your analysis. The treatment takes place whilst you lie and relax in a Japanese massage chair, which kneads you therapeutically whilst you have your facial done.
In our case, we were told we had combination skin and the therapist first started clearing the skin with a the light Papaya Enzyme Peel, followed by the Pro-Radiance Illuminating Flash Balm, and the Absolute Eye Serum. Our skin felt amazing after the treatment - plump and hydrated, and colleagues all remarked on how glowing it was when we returned to work afterwards. A great, quick pick-me up that doesn't break the bank that targets many skin issues and is suitable for everybody. Priced at £30.
Click here for more information.


With 25 years expertise and clinics in Paris and London, Dr Jules Nabet is one of the most renowned aesthetic doctors in the world. His London clinic is based in the luxurious Royal Gardens Hotel in London's Kensington, and it's a veritable oasis of peace. On our visit we decided to try out the famous City Skin Buster facial, a 90 minute deep cleansing peel with a combined vitamin and mineral facial that purifies the skin, getting rid of dirt caused by pollution and blackheads whilst minimising pores and brightening.
Hot steam is used on the face to open pores, followed by a thorough extraction. After the deep cleanse, a degreasing lotion is used on the skin to get rid of excess sebum, followed by a Mandalic acid peel. We had 30% Mandalic acid applied for 5 minutes (but this can vary according to the patient's needs and skin type), and whilst there was a tingling feeling, it was comfortable and there was no burning sensation. The peel was removed first with a cloth soaked in cold water, followed by a sodium-based neutraliser. This was followed by the native oxygen and vitamin-rich Dr Jules Nabet Anti-Ageing Serum, before the final stage: the Dr Nabet moulded mask, which is rich in minerals, vitamins and hyaluronic acid to deeply hydrate and plump the skin.
After about 15 minutes the mask was removed and followed by the soothing, moisturising and refreshing Zen Lotion, before a moisturiser with SPF 50 was applied all over the face (it's very important to wear a sun block and not sunbathe for around four weeks after the treatment, due to the peel). At £220 for 90 minutes, this is the Roll Royce of facials, but the results speak for themselves. Our skin was so clean and clear it glowed for days after. Pore size was visibly reduced, the face felt very soft and plump and fine lines seemed less noticeable. This treatment is suitable for all skin types and ages, especially those who suffer from oiliness, dull epidermis, spots and hyper-pigmentation.

Click here for more information.

Designed to target the signs of ageing using a combination of vitamin C and pro-collagen, this treatment uses four steps to firm, regenerate, brighten and smooth the skin. Phase 1 starts with the sweet almond oil and Shea microbeads Guinot Gommage Dermabrasion to get rid of dead skin cells and cleanse deeply. Once that is removed the vitamin c packed Anti-Ageing Regenerating Serum is applied to encourage production of collagen and cellular regeneration.
An anti-ageing, contouring, very relaxing facial massage follows and last, the pièce de résistance; the Masque Age Summum, enriched with stabilised vitamin c and collagen is left on the face for several minutes to promote radiance. The face and eye area are then moisturised with Guinot's skincare, according to needs. This treatment is ideal for those who are serious about maintaining a fresh, youthful appearance and it's suitable for anybody 30+. The skin is smoother, firmer, brighter, softer and more radiant. Fine lines are less visible after just one treatment. From £75.
Click here for more information.
Book the morning off for this this three-hours holistic treatment which includes a facial, a full body massage and even a palm reading! A truly relaxing experience for the body and soul, The Planets starts with The Past phase: a massage that relieves tension, helps to relax and reflect and lasts 1 hour and 25 minutes. Afterwards, you are invited by a therapist to enjoy a cup of tea, a hand and arm massage and a Lush palm reading (which, despite our scepticism, was spot on!) in phase two, The Present. Phase three, The Future, is all about the lifting facial, which uses a manual technique to lift the skin and the facial muscles and also gives you time and space to relax and reflect. A great 3 in 1 treatment for those who really need to de-stress and relax mind and body. £285 for three hours and suitable for all skin types.

Click here for more information.
Murad's facials are taylor-made, according to your skin's needs. First of all, a machine takes a picture of the face and checks for sun damage, ageing, hydration, excessive sebum and any other possible conditions. According to the results, a treatment is then chosen. In our case, our skin was a little dehydrated, but the real issue was hyper-pigmentation on the cheekbones (little dark spots due to sun exposure) so the therapist opted for a brightening and moisturising facial using vitamin c and moisturising products from the range. First of all the face was cleansed with the Essential-C Cleanser and Toner, followed by a light vitamin c fruit acid peel to lift dead cells. This was followed by the Advanced Active Radiance Serum, the Essential-C Day Moisture SPF30 and the Hydro-Dynamic Ultimate Moisture Renewing Eye Cream. £55 for 60 minutes.

Click here for more information.