The Five Things Adele's Taught Us About Beauty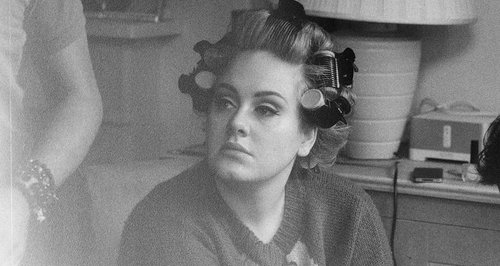 While Adele is known for her stunning, powerhouse voice, we're equally obsessed with her hair and makeup. From her signature winged eyeliner to her contoured cheekbones, here's five things Adele has taught us about beauty...
There are so many reasons to lust over Adele's beauty style. Not only is she a pioneer of the modern cat eye and the queen of contoured cheekbones, when it comes to her hair, she is fearless – transforming her bronde locks into mega-volume bouffants. So here's five things the '25' singer has taught us about hair and beauty and how to work her leading looks...
Adele's Defined Brows
Adele is one of our beauty editor's biggest celebrity eyebrow crushes – with her full, well defined arches and brow colour perfectly complimenting her sandy blonde locks. Using the HD Brows procedure, you too, can have your eyebrows shaped like Adele. Permanent Cosmetic Professional and eyebrow expert, Ellenor Holland explains...

Step 1: "I always start by cleansing the brow area first to remove any makeup or dirt."
Step 2: Unlike other eyebrow treatments that use a 'one shape fits all' technique, HD Brows stylists assess face shape and colouring before creating a bespoke brow, tailored exclusively for the client. Ellenor says: "I tint the eyebrows in a colour to suit the client's complexion and desired high definition look. Once the tint has activated, I remove it and then go onto waxing the brow into the bespoke brow shape."

Step 3: "The downy hair around the eyebrow area is then removed through a threading process to give a clean crisp shape. A small amount of plucking or trimming is also done to give a well groomed look."

Step 4: And finally after applying a skin comforting lotion, the eyebrows can be finished using the HD eye & brow palette. "It's always best to go extremely light with pressure when applying any powder and build the colour up for a more natural look. Use a brow wand to help blend the colour through any existing hair to soften the look."

Recommended products:

Eye & Brow Palette, £25, HD Brows
Brow Beater, £14.95, HD Brows

Adele's Winged Eyeliner
Achieve the singer's famous feline flick with these simple steps from our beauty editor's fave makeup artists, Amanda Durkin and Georgiana Teers...
Step 1: Look straight ahead into the mirror keeping your eyes open.
Step 2: Map out the highest point you want your flick to reach (depending on your eye shape) and mark a dot of black eyeliner gel.
Step 3: Using an angled brush start drawing a thin line of black gel beginning in the inner corner of your eye along the lash line.
Step 4: When 2/3 of the way across, start lifting the line to meet the dot and outer edge of your eye making a flick shape.
Step 5: Corrections to the shape can be made using a Q tip dipped in eye make up remover.
Recommended products:

Precision Gel Liner, £20, Illamasqua
Angled Brush, £19.50, Illamasqua

Adele's Contoured Cheekbones

You too, can carve out your cheekbones a la Adele using these sculpting tricks from heart favourites, Amanda Durkin and Georgiana Teers...
Step 1: The important thing is getting the right shades for your skin tone - for contouring, you should go a skin tone down from your normal foundation colour, otherwise you risk looking dirty!
Step 2: You can use a cream or a powder to contour but a powder gives a more natural look which is easier to control.
Step 3: Feel for your cheekbones and map your face – you can use the handle of a contour brush, angled from the tip of your ear downwards to help you find the line.
Step 4: Buff the powder just under the line of your cheekbone, baring in mind that the general rule is that contour powder shouldn't go further than the edge of your eyebrow.
Recommended products:
Studio Sculpt Defining Powder, £22.50, MAC
Large Angled Contour Brush, £28, MAC
Contour Kit, £6.49, Barry M
Adele's Plump Pout
Whether she's sticking to a nude pillowy-soft pout or rocking that iconic full-on red lip, Adele always has full-looking lips. Perfect your pout with Amanda Durkin and Georgiana Teers top makeup tips...
Step 1: First, use a lip primer to stop 'bleeding' or smudging and to maintain a clean look.
Step 2: Use a lip liner to trace the outline of your lips - using lip liner will automatically allow you to cheat a new, fuller shape, if you have thinner lips than your desired look.
Step 3: To enhance your lips further, use a touch of highlighter on your Cupid's bow.
Step 4: Now, fill your lips using the lip liner – this creates real staying power for your lipstick (which is perfect for the party season!)
Step 5: Use a lip brush or lipstick to go over your lips up to the liner, then blot and repeat.
Recommended products:
Lip Primer, £16, Look Fabulous Forever
1000 Kisses Lip Liner, £2.99, Rimmel
High Beam, £19.50, Benefit
Lipstick, £15.50, MAC
Adele's Bouffant Hair
"Adele is one of the celebrities responsible for bringing back the sky-high bouffant," says celebrity stylist, Tatiana Karelina. "There are a few easy steps to create your own, whether you want to go big and beehive it all the way or stay classy with a smaller bouffant."
Step 1: Start by separating the top section of your hair, spray with a root lifting spray or texturizer and start teasing your hair.
Step 2: Backcomb your hair from the roots. The bigger the better at this stage as can always take some of the back comb out, but it's not easy to add more height later on.
Step 3: Using a soft bristle brush, smooth the top part of your hair over the backcombed area and give the top section a good shot of hairspray.
Step 4: To secure your bouffant, use a few bobby pins in the same colour as your hair to keep your sixties-inspired look in place.

You can also use a variety of hair pieces to help give extra volume and length to he shorter hair on top, they blend in with your natural hair to get the desired Adele-esque bouffant look with LOADS of volume.
Below, Tatiana Karelina creates the easy-to-do bouffant...
Recommended products:
Dry Texturisizing Spray, £39, Oribe

Hairspray, £21, Unite

Dressing Out Brush, £4.29, Denman
All In One Clip In Hair Piece, Tatiana Karelina