You Won't Believe What Actually Happens To Your Skin During A Hangover!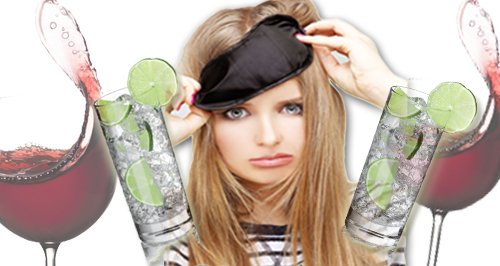 The morning after the night before can leave us all feeling a little worse for wear in more ways than one.
It's no secret that drinking alcohol can take a toll on our minds and our bodies.
Beer googles, headaches, feeling sick and that regretful feeling of BEER FEAR the next morning are all known side-effects of a great night out but have you ever thought about the toll one too many tipples can have on your skin?
Well according to Hollywood Dermatologist Dr Lancer, it can take between "two to four weeks for your body to regulate after a night of drinking."
WOAH. So let's think about it, if you go out Friday and Saturday night, you could be looking at twice the recovery time.
The man credited with helping to maintain Kim Kardashian's flawless complex, revealed to Metro.co.uk: "A glass of the finest red wine is 400 calories of sugar, and sugar triggers acne by inflaming the lining of the stomach – which in turn triggers a brain signal to produce more testosterone."
It probably hasn't gone unnoticed that following a night out (or a heavy night in!) your skin lacks it's glow and you find yourself desperately trying to cover up those dark circles under your eyes.
While we all reach for a quick lick of Touch Et Clat highlighter under the eyes, Dr Lancer says that dark circles are a sign of dehydration which could lead to premature ageing.
"Alcohol is a diuretic that dehydrates the entire body – as is evidenced by the intense thirst of a hangover", he says.
While we all love a cocktail or two, booze drains the skin of moisture and vital nutrients which is why you're likely to experience that dull skintone. And when it's like this the skin can become scaly and taut which can lead to wrinkles.
He adds: "You can put any number of expensive treatments on your skin, but if your body and diet are unbalanced, you are not likely to see the results you are looking for."
Kim Kardashian's glow is something that many have tried to emulate ( Credit: Instgram)
So should we be ditching the good stuff all together? Don't fear Dr Lancer says you won't have to think about a life without wine anytime soon so long as you drink in moderation.
"A glass or two of red wine with dinner now and then is not a problem,' he reassures. "But regular, habitual, excessive drinking is. And if you have rosacea (reddening flushing), sensitive skin or acne, excessive alcohol can exacerbate flareups."
As for that perfect hangover cure when it comes to flushing those toxins out of your skin, it's WATER, WATER and more WATER.
"Staying hydrated is essential for beautiful skin and good health. You need it to digest food, circulate blood and flush out toxins – to name but a few functions. So, it's a good strategy to drink a glass of water every time you have an alcoholic beverage."
Okay Dr Lancer, so long as we can still enjoy a glass of wine you have a deal!