EXCLUSIVE: Kourtney Kardashian Reveals The Three Beauty Buys EVERY Working Mum Should Have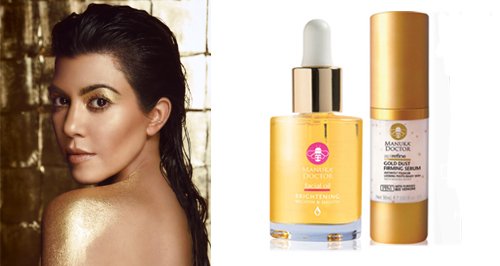 The busy working mum-of-three sat down with Heart for an exclusive chat, where we grilled her about her best kept style and beauty secrets...
If you're a Kardashian fan, then you'll know all too well that Kourtney Kardashian is extremely health conscious about what she puts into her body, so it's no surprise that the glamorous Kardashian sister has teamed up with Manuka Doctor to become a global ambassador for their range of nature-inspired beauty products.
The busy working mum-of-three sat down with Heart for an exclusive chat, where we grilled her about her best kept style and beauty secrets...
Are there any trends from your younger years that you regret?
I still love the 90s lipliner, I always used a colour on the inside that that was so much lighter than the lip liner. But I used to use so much coloured eyeshadow! Purple, turquoise was a big one, and even recently on season 11 of our show – you think I would know better by then – the makeup artist did my face, and I didn't even check in the mirror before filming and it was bright green!
If you had to swap styles with one of your sisters who would it be and why?
For makeup I would say Kylie, she does her own makeup perfectly and she is so up on makeup trends because of her lipstick line. Then clothes I would say Kylie too, Kendall and I have the most similar styles but if I wanted to switch it up I would go for Kylie.
Do you share clothes with your sisters?
We used to more when we lived together. Kim and I have had battles over stealing clothes but sometimes me and Khloe share because we live literally two blocks away from each other – although she'd probably kill me if I stole one of her bags.
Which sister is most likely to nick something from your makeup bag?
Khloe is the only one who listens to me as far as natural products and stuff, so probably her.
You're a working mum, what would you say are the three beauty items every mum needs?
Manuka Doctor lip enhancer, because it doubles as lip balm and plumps your lips. I love our Kardashian beauty dry shampoo, if you don't have time and your hair is looking a mess then it's great, and finally I would say a good pair of sunglasses to hide it all!
Has your style changed since becoming a mum?
I have become so much more cautious about what I put in my body, especially when I was breastfeeding my kids. So when I feed myself and use skincare I really steer away from products that have chemicals. I went through a phase where I would only wear flat shoes after having Mason but it changes all the time.
Do you let your daughter play dress up in your stuff?
Penelope LOVES to play dress up! She comes in my closet and tries on all my shoes. I do let her play with my makeup but my mum got both North and Penelope these Vanity desks with drawers and seats for Christmas with tons of makeup.
Did your mum's fashion inspire you when growing up and what do you remember about her style?
Definitely, I mean growing up she just had he best shoes, that was her thing. I used to think 'when I'm your size, I'm going to wear those!' and I just never became the same shoe size as her. I do have tons of her clothes though, and jewellery like vintage Chanel pieces, but she always had the best fashion sense and she instilled our love of fashion.
Are you going to be bringing out your own organic range?
Not right now, but it is really important to me. With my app its nice to be able to share the things that I'm learning like recipes or products. I just recently became gluten-free and dairy free too, so I'm still discovering so much.
Do you ever indulge in a naughty treat?
I had a Krispy Kreme two nights a go, and everyone was like 'don't do it!' but I was like 'I don't care!' everyone has to cheat every now and again.
We hear ya on that one Kourt!