Fancy A Micro Chip Manicure? These Awesome Nails Let You Pay On The Go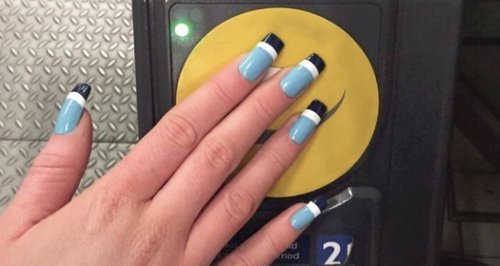 A super clever fashion student has created some nifty nails that allow you to make contactless payments. Would you add a micro chip to your next mani?
You'd expect your average jewellery design student to be making necklaces and building their debut collection.
But Central Saint Martin's star student, Lucie Davis, has turned her attention to contactless payment technology...come again?
Lucie was encouraged by her tutors to come up with something that would shake up her daily routine and, like most of us, she decided her morning commute needed a makeover.
But instead of sticking to the ordinary, Lucie opted to create an acrylic manicure embedded with a tiny micro-chip that allows you to make quick-and-easy swipe payments.
How cool is that! Watch her nails in action on the train here...
Maybe in the future you'll be using your mani to pay for the milk and bread in Tesco!
Just make sure you don't swipe accidentally and spend all your cash...
Would you wear contactless payment nails? Or are they a step too far? Let us know...