This Charlie and the Chocolate Factory Makeup Kit Is A Chocoholic's Dream
1 June 2017, 16:31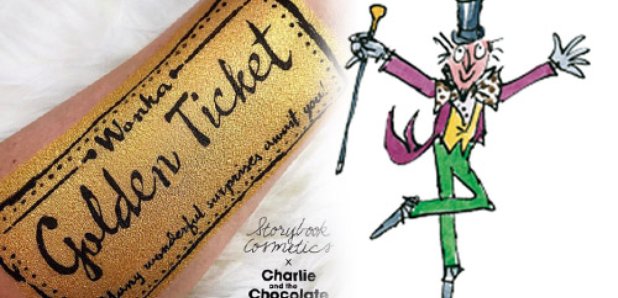 The golden ticket fo all things makeup has finally arrived...Willy Wonka style.
When it comes to fun-themed beauty products, Storybook cosmetics never fail to amaze us.
From their Game of Thrones-themed makeup to their Harry Potter brushes, beauty fans everywhere have been able to get their film and TV fix.
Now the boutique cosmetics brand are back with a palette inspired by Roald Dahl's most popular book: Charlie and the Chocolate Factory.
The brand are yet to give away any real details, but from what we can see their collaboration is with the Roald Dahl estate.
What's most exciting about the palette, is we know it's going to feature a highly-pigmented, glittery gold eye shadow, which was perfectly presented in Golden Ticket form.
How cute?
The palette is to be packaged in a box that resembles a book, complete with a fantastic Charlie and the Chocolate Factory illustrated cover.
Sadly, not much more has been given away about this palette but Storybook Cosmetics announced yesterday that their followers should "stay tuned for more sweet updates in the next few weeks".

We can't wait!