Glitter Roots Are Apparently A Thing Now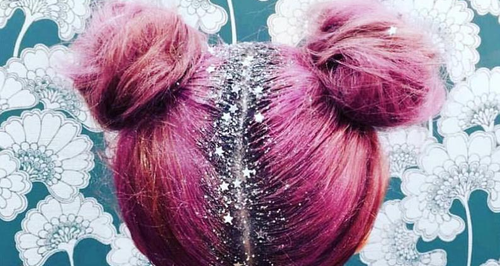 Move over rainbow roots. Glitter roots is the new hair trend taking over the Internet world. Would you?
Usually when someone sprays glitter in their hair, they're attempting to a. relive the 90's or b. having a bit of a breakdown. But since the 'My Little Pony' hair trend did so well in celeb-land and erm, everywhere else – normal hair is so, like, five years ago.
Why did no one think of this before? We've been so busy spending money trying to cover up our roots that we've completely forgotten that they, too, can get blinged out.
Yep, following in the footsteps of rainbow roots, glitter roots are the new way to add a little disco flare to your locks this Christmas.
But before you deem glittery roots only appropriate for your kids' dance recitals, the trend urges you to precisely apply chunky bits of glitter directly on your roots and spread no more than an inch away from your parting.
And Instagram are going mad for the new festive hair trend...
Winter is the one time everyone can embrace glitter and get away with it – so what better time than now to try out the new trend?
WATCH: Fudge Urban's exclusive tutorial for you to try out the new hair trend this party season...