Introducing The Rainbow Buzz Cut - The Internet's Latest Crazy Hair Trend!
25 April 2017, 12:20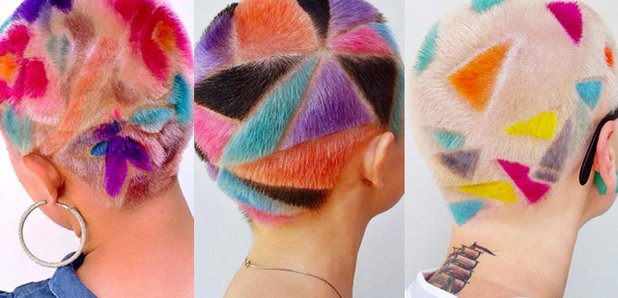 This is the latest wacky hair trend taking the internet by storm. We think it's pretty impressive!
The internet has its fair share of crazy beauty trends!
From Swiss cheese manicures and glitter roots to the more recent 'feather brow' phenomenon, we're not sure it will ever end!
And our opinions are certainly divided on the latest hair trend...the rainbow buzzcut.
We've seen buzzcuts become more of a thing lately, with many celebs rocking the bold look such as Kristen Stewart and Katy Perry and looking absolutely flawless while they're at it!
The usual way to trend a buzzcut is in an edgy platinum blonde, but some edgy ladies have been taking it to the next level drowning their heads in a sea of colour.
Check out these incredible creations by US based artist-turned-hair-stylist Janine Ker. She shares her amazing work via Instagram...
But Janine doesn't just stop at creating art on short hair; she can do incredible things with hair of all lengths!
The artist uses a stencil and temporary colour sprays to apply designs of all shapes and sizes onto hair. First, she sketches the design onto paper then mixes the colours of her choice and sprays it across her bespoke stencils onto the clients locks.
There are just no words...
Most of us would struggle to do the kids' hair in the morning, let alone do something this amazing!
So we'll leave it to the professionals. Janine we salute you, meanwhile....where's the nearest scrunchie?