This Make Up Artists Incredible Creations Will Mesmerise And Terrify You!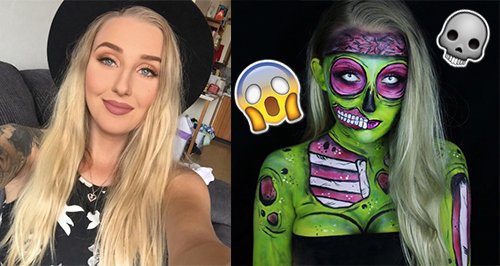 You won't believe your eyes when you see this make up artists dramatic Halloween transformations!
When Halloween comes round it's obligatory to whack on some fake blood and try out some DIY halloween make up with the face paints left over from last year.
But some people take Halloween make up SO seriously and the results are incredible!
One Australian make up artist, Bonnie Corban, has Instagram going wild with her special effects transformations which she posts on her page as well as posting tutorials on her YouTube channel.
She's a fully qualified make up artist, but these looks are far from your usual Saturday night glam.
She taught herself how to create all the crazy prosthetic and special effect make up techniques and what she can do will blow your mind...
Sally from the Nightmare Before Christmas
A Crazy 'Stapled Face' Halloween Look
The Mad Hatter
Creepy Doll
Absolutely incredible! And her tutorials are mesmerising to watch too, but admittedly look very hard to follow especially as I'm sure many of us don't have any liquid latex lying around at home!
I think we'll leave these incredible looks to the professionals and stick to more easy halloween make up, like eyeliner whiskers and a nose.