The Classic Makeup Mistakes We Should DEFINITELY No Longer Be Making!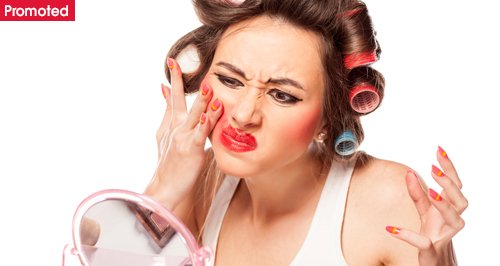 If panda eyes, clumpy mascara and awkward lip liner still play a role in your life, take a look at our top tips to break the cycle...

Have you ever looked at a picture of yourself as a teenager and thought, 'what on earth is wrong with my makeup!?'
Yep, we've all been there! Sometimes it's easy to see the funny side, but now that we're fully-fledged adults we want our makeup to look flawless not frightening!
The easiest way to up your beauty game is to avoid these classic makeup faux pas...you know, the ones we've managed to carry over from our younger years into adulthood.
Here's our rundown of the classic makeup mishaps that really shouldn't be happening in 2016...
Classic mistake 1: You forgot to blend
During the early morning rush it's hard to find time to put makeup on, let alone make sure it looks good! Bad lighting and lightning speeds can lead to streaks, lines and dense blots of colour which don't look so great. Grab yourself a beauty blending sponge and tackle your jaw line, round your ears and your neck to ensure your foundation is flawless.
If in doubt, use a clean fluffy brush to give your blusher an extra blend and use a cotton pad to pat away excess eyeshadow. We promise it will all be worth it!
Classic mistake 2: Your lip liner is a tad heavy
Full lips may be the ultimate beauty look right now, but unsightly lip liner needs to stay in the 1980s! Take time to carefully match your lip liner to your lipstick, use it sparingly, and stick to the outer edges of your natural lip line...you may be tempted to add a few millimetres, but we'd opt for subtle over silly any day.
Classic mistake 3: You're wearing too much
What if we told you you can save money and look flawless? When we're young we often take a more-is-better approach to makeup, but as adults we know nothing looks as flawless as a natural, barely-there makeup look. Build your makeup in layers, blending as you go, rather than putting lots on and furiously wiping it away.
Classic mistake 4: You're using the wrong shades
You may have the ideal foundation shade nailed, but what about concealer, contour colours, eyeshadow and lipstick. Are you making the most of your eye colour with the perfect shadows? Are you wearing a blue based lipstick when you really need a warm, orangey red?
These may sound like trivial questions, but they can really make a difference! Speak to a counter assistant at your favourite brand to find out what will work best for your skin tone...
Classic mistake 5: You've not invested in tools
Nope, we're not suggesting you sink hundreds into a professional makeup artist kit, but a decent foundation brush is a great place to start! Your fingers are fantastic applicator and blending tools, but for a little more precision we recommend a good quality brush set. With careful use and regular cleans they can last you years!
Classic mistake 6: Your eyes are scary not smoky
Perfecting the smoky eye is no easy task, but there are some simple tricks that will ensure they look fabulous. Use a eyeshadow primer, followed by a gorgeous nude or pale shimmer across your eyelid and up to the brow bone. Follow this with a deeper shade in your eye socket crease and the darkest shade on the outer edges of your eye (and a small amount blended into your lower lash line). Once this is done, blend, blend, blend and add a sweep of mascara.
Classic mistake 7: Your liquid liner is smudged and lopsided
We don't know what's more annoying, trying to make our eye liner flicks match or finding that the colour has transferred onto our brow bone! There are lots of online tutorials with plenty of tips and tricks, but why not make your eyeliner do all the hard work instead? Benefit's they're real! push-up gel eyeliner has a specially-designed flexible tip that hugs your lash-line, making a professional finish so much easier.
Classic mistake 8: You're forgetting your brows
Flawless foundation, perfect eyes and a lipstick to stop traffic are all well and good, but your eyebrows are essential for framing your face. Leaving them to fend for themselves is an ultimate beauty no-no! Check out our ultimate guide to perfect eyebrows here.
How do you tackle makeup blunders? Are you a wipe it all off and start again kinda girl?
Let us know below...