People Are Going CRAZY For These Plant Inspired Nails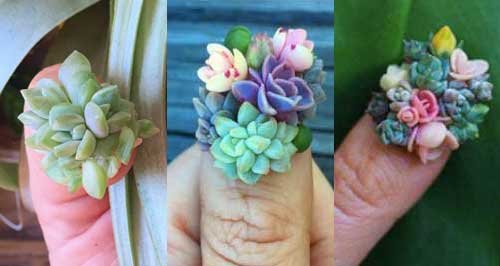 These #succulentnails add a little glamour to the term 'green fingers' and people can't seem to get enough of them! / bring a whole new meaning to the phrase 'Green Fingers'…and people can't seem to get enough of them!
If you've ever thought gardening was a less glamorous affair, these beauties might just change your mind.
Inspired by succulent plants, one artist has taken the beauty of nature to the extreme, creating 3D nail art with these gardening greenery.
For those of you that don't know what a succulent plant is (even we had to tap it into the nearest search engine), a succulent plant or 'succulents' are plants that store water in their leaves and tend to thrive in dry climates.
Succulents don't like a lot of humidity and the leaves tend to be thick and fleshy, but some of them have thicker leaves than others.
The nail art is the brainchild of Australian artist Roz Borg, who creates the pieces by planting real succulents onto acrylic nails using floral adhesive. Far from your usual in-and-out trip to the salon, these intricate designs will set you back an hour PER HAND!
Despite the time and impracticality, the succulent nails are undeniably stunning – even rapper Nicki Minaj is impressed…
Speaking with The Huffington Post, Borg revealed, "People are stunned when they realize it's real live plants, not 3D sculpting," she told HuffPost. "Some people are grossed out, but most love it!"
Not only are the wild creations leaving us green with envy, they are super environmentally safe with the tiny plants still able to grow while attached to your nail bed!
""The Oasis glue eventually releases and I can plant the baby succulents and they can grow happily," Borg continued, "It's definitely a temporary green thumb."
Fans of the nails have been attempting their own versions of the #succulentnails, posting their own designs on Instagram.
We wonder if Borg could design us some for Christmas?