Adele Has Been Immortalised As A Barbie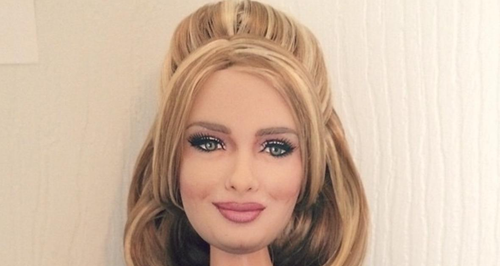 After suffering unfortunate tech issues during her Grammy performance, the legendary singer can take solace in the fact that she has been forever immortalised in doll form...
Yes, we repeat, Adele has been turned into plastic... but don't panic just yet!
Instagram user Cyguy83 has created a Barbie version of the hit singer and we REALLY want it in our toy grownup cupboard.
The doll is wearing the dress that the 27-year-old wore for her performance of the 'James Bond' theme tune 'Skyfall' at the Oscars in 2013.
We just love that big beehive and glamorous curls. What do you think?
After Barbie's dramatic transformation and ahead of Fashion Week, the iconic doll has been hanging out with Derek Zoolander...
C'mon Barbie, let's go party...
With Zoolander 2 set to hit UK cinemas next week, Ben Stiller's clueless fashion model has gate-crashed Barbie's fashion-focused Instagram account.
Yep, Derek Zoolander has been spotted giving the iconic doll posing lessons, having a 'walk off' with Ken and working out at a spin class...
Pretty sure there's a lot more to life than being really, really, ridiculously good looking...
And here's Zoolander and Ken preparing for Fashion Week...
It's a new dawn, it's a new day, it's a new life... for Barbie - and she's looking good!
Since 1959, Barbara Millicent Roberts (you'll know her as Barbie) has been a household name. But after decades of dominating the doll world (and the majority of our childhoods), Barbie is getting a major makeover. And it's about time!
As everyone knows, where Barbie leads, Ken follows. So, with a range of more diverse body shapes and skin colours released last week as part of the Fashionista range, comes the corresponding range of Ken dolls, or, at least, the imagining of it...
.@Mattel just released a new chubby #barbie doll...I can't wait for curvy Ken to come out! pic.twitter.com/7SeLLNRID4

— Will McFadden (@willmickyficky) January 28, 2016
Yep, although it's an artist's impression, social media users are calling for a more realistic Ken figurine after Mattel announced a more diverse range of Barbie dolls on Thursday. Twitter users are demanding to see a 'dad bod Ken' model as an alternative to the current model with a high standard for physical perfection so watch this space...
Stage 1: Traditional Barbie
With her miniskirts and doe eyes, the original Barbie was all about looking pretty and doing what she was told. It's not just us right? She always seemed to need approval from Ken and only wore super-tight clothes (what was that about?!).
Stage 2: Entrepreneurial Barbie (aka. a fabulous Michelle Mone lookalikey)
Then in 2014 enter business Barbie! Ready to smash that glass ceiling and take on the world - she struts her stuff in a smart no-nonsence suit and carries her work documents with there everywhere she goes.
Stage 3: REAL LIFE BARBIE!
Toymaker Mattel is announcing that the normally blue-eyed blonde Barbie is FINALLY changing her look, to make her, you know, a little more like you and me.
The Barbie of 2016 comes in three new body shapes: tall, petite and curvy. Tall is, well, taller than the original, and appears to have broader shoulders. Petite is basically Cheryl Tweedy-Cole-Fernandez-Versini-whatever-she's-called. But for us, it's all about Curvy Barbie!
Plus-sized model Ashley Graham certainly approves!
As a typically white doll with unrealistic proportions, parents thought the original Barbie was sending the wrong message about beauty to their children.
"We were hearing that many thought that Barbie was out of touch," said Evelyn Mazzocco, Mattel SVP and global brand general manager.
"We are excited to literally be changing the face of the brand — these new dolls represent a line that is more reflective of the world girls see around them — the variety in body type, skin tones and style allows girls to find a doll that speaks to them."
In plastic world, this is HUGE news.
The full range now has four body shapes, seven skin tones, 24 hairstyles, 22 eye colours (are there even 22 eye colours) – and feet that actually wear flat shoes. Online sales start Thursday on Barbie.com and the new dolls will start hitting stores March 1
One small step for Barbie, one huge leap for womankind.