These Rings Look EXACTLY Like Pippa Middleton's But Cost Almost Nothing!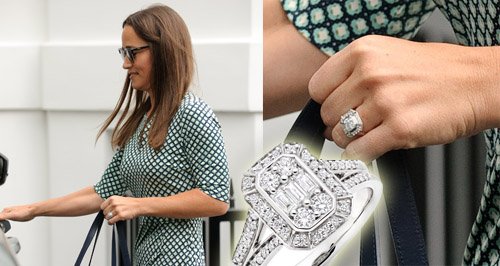 Getting a ring that's fit for a royal doesn't have to cost the earth! These stunning rocks cost almost nothing in comparison to Pippa's blinding ice.
As Pippa Middleton confirms her engagement with the flash of her stunning diamond ring it's had punters rushing to the jewellers in a bid to snap up a similar style.
It's reported that just hours after the Duchess Of Cambridge's sister confirmed she is set to tie the knot to James Matthews on Tuesday morning, shops have seen a surge in enquiries about similar rings.
Pippa's blinding rock is thought to have set her wealthy banker finance back about £200,000 and experts believe the hefty piece of ice is a 4 carat asscher cut diamond.
The flawless octagonal ring is thought to be of the utmost quality with the highest of clarity gradings, but this hasn't stopped the high-street from putting forward their own copycats.
We've rounded up some of the best to get you started!
Now experts think the square cut design will spark a trend for art-deco inspired pieces.
A spokesperson for 77 Diamonds revealed: "Pippa and her fiancé have reignited this theme, larking back to the 1930s, which has already created a buzz and excitement for the design from the public. Her ring, whilst contemporary made, flatters her chic style, a nod to vintage but with classic contemporary elegance.
"We expect more and more brides to be to jumping on this and continue to ask us for "the Pippa ring."
We'll be first in the queue!