These Free Street Pantries Are Lending A Hand To People Who Need It!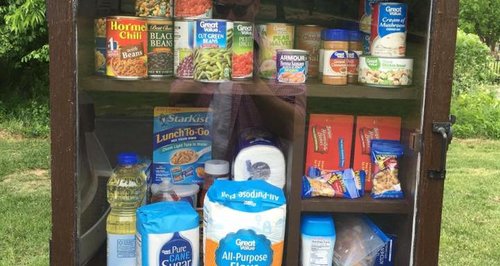 These free pantries are popping up on street corners across the US offering food and essentials to people in need.
Little Free Libraries have been popping up around the world for a while now, offering goodwill in the forms of books on street corners far and wide.
These libraries have been spotted in all shapes and sizes including some cleverly placed in disused red telephone boxes across London. But in the US a new charitable phenomenon has emerged in the form of The Little Free Pantry.
Jessica McClard from Arkansas decided to twist the library idea and fill boxes on streets across her local area with things that those who have fallen on hard times may need the most.
Her Free Little Pantries are stocked with canned goods, personal hygiene products and even fun items for children such as crayons an colouring books to reach out a helping hand to those less fortunate.
In somewhere that gets as hot as the southern states, you wouldn't be blamed for worrying that the food might turn bad when in these glass fronted boxes, but apparently the demand for the pantries is so high they are often empty within thirty minutes!
After installing a few more pantries Jessica was surprised to find others including local businesses from her community were filling up the boxes too and the project has continued to gain momentum from there.
The Little Free Pantry Facebook page now has over 11,000 likes and now similar concepts are popping up all over the place including 'Blessing Boxes' in Oklahoma and are soon to be in Ohio too.
Local people using the service are so grateful that they often leave handwritten thank you notes to show their appreciation.
It just goes to show how far a simple gesture can go, and it's surely only a matter of time until this brilliant idea reaches our side of the pond too!