Grab The Sick Bucket! KFC Announces Chicken Flavoured EDIBLE Nail Varnish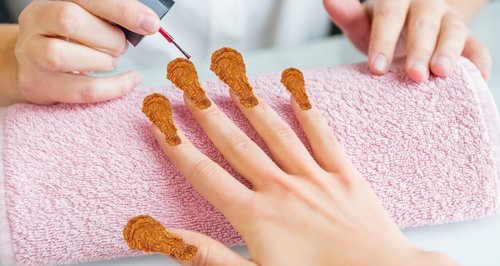 Edible nail polish that tastes like chicken! You must be joking right? WRONG. KFC have only gone and done it!
If we'd discovered KFC's edible chicken-flavoured nail varnish on April Fool's Day we would have totally thought it was a joke...sadly not.
The fast food chain has just launched edible, finger lickin' good chicken nail varnish in Hong Kong and we have so many questions! The first one being, did the world really need this?!
According to the brand's marketing agency: "The recipe for our edible nail polish is unique and was specifically designed to hold the flavour, but to also dry with a glossy coat similar to normal nail polish."
The aim of the nail varnish is to build a buzz around the chicken chain in Hong Kong, and it's safe to say it has worked. There are two colours/flavours to choose from; a bright orange hot and spicy flavour and a glittery Thousand Islands dressing flavour.
Excuse us while we gag a little...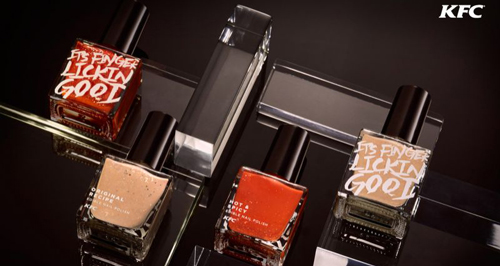 Apparently there's a catch though. Reports by news outlets in Hong Kong, who've received some of the first samples of the nail varnishes, say that the entirely edible ingredients aren't supported by any preservatives...which means they keep going off!
The bottles have to be refrigerated and only last a few days before you have to throw them out.
Thankfully, KFC isn't producing these polishes for the mass market yet as they're waiting to see how everyone reacts. We reckon this one is best kept off the shelves!
Check out the KFC edible nail varnish music video below...
Would you chew your way through this nail varnish?